02-08-2016 05:07 BST / 02:07 EDT by Serebii
Be sure to check yesterday's update for big news. This update will be updated throughout the day. If you have any ideas for the site, be sure to send them in
With the new generation upcoming, and the Chatroom has been rife with discussion while the WiFi Chatroom has been a place for battles, trades and Friend Safari hunting, so be sure to visit them. Our Forums have also had these discussion and are a bustling trade and competitive section for the games. Be sure to like our FaceBook Page.
Last Update: 07:43 BST
Edit @ 07:03: Pokémon Shuffle | Edit @ 07:19: Pokémon on LINE | Edit @ 07:43: ORAS Demo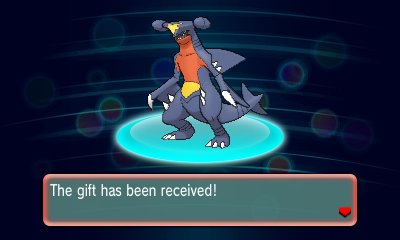 In The Games Department
Pokémon Omega Ruby & Alpha Sapphire - Cynthia's Garchomp
For those of you who participated in the recent Sinnoh Classic Battle Competition, the entry gift is now available to all qualifying players. This gift is a Garchomp based on the Garchomp used by Sinnoh Champion in Pokémon Diamond, Pearl, Platinum, Black & White. It can be redeemed until September 29th at 23:59 UTC. Our Event Database has been fully updated with details of this event.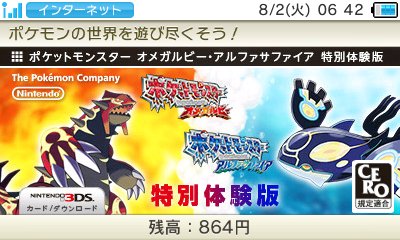 In The Games Department
Pokémon Omega Ruby & Alpha Sapphire - Demo
Having been given through various means back in 2014 globally, Nintendo Japan has finally added the special Pokémon Omega Ruby & Alpha Sapphire demo for free to the Nintendo 3DS eShop. This is the same demo as the original and will be available until September 30th 2016.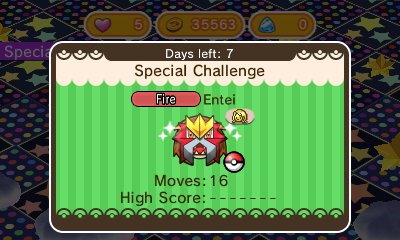 In The Games Department
Pokémon Shuffle - Events
A few brand new challenges have begun on Pokémon Shuffle and Pokémon Shuffle Mobile.
First, the next Mega Stone Competitive Stage has begun. This one will get you a Steelixite to get a Mega Steelix. If you rank in the top 1,800 in North America, 1,200 in Europe and 5,000 in Japan get a Steelixite, Mega Speedup and Raise Max Level. Those in the top 5,600 in North America, 3,800 in Europe and 15,000 in Japan get the Steelixite and Mega Speedup. Those in the top 22,000 in North America, 15,000 in Europe and 60,000 in Japan get a Steelixite and Disruption delay. Those in the top 30,000 in North America, 20,000 in Europe or 80,000 in Japan get an Attack Power and a Disruption Delay. All other players get an Attack Power
Next, a special event stage for Entei is running until August 9th. It may drop an Entei Skill Booster or a Raise Max Level
Next, Daily Pokémon (#3) is beginning a repeat run until August 16th. This contains Girafarig, Kecleon, Shuckle, Relicanth and Spiritomb in each respective day
Next, the Ash-Greninja stage is also beginning a repeat run until August 16th. It may drop Ash-Greninja Skill Boosters
Finally, the Reshiram stage has also begun a repeat run until August 16th. It may drop Reshiram Skill Boosters

All of these require the version 1.3.16 to download. Our Pokémon listings have been updated with these Pokémon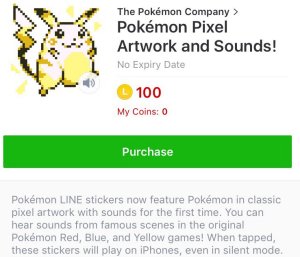 In The Pokémon Department
Pokémon - LINE Stickers
For those of you who have the social media app, LINE on your iOS, Android or Windows Mobile devices, The Pokémon Company has today put out a batch of 40 animated stickers that can be used in messages on that social media app. These are a new set of stamps that were releasd in line with the Pokémon With U charity campaign in Japan and had people create images that could be used in the campaign
| | |
| --- | --- |
| LINE Stickers | LINE Stickers |
| | |