11-08-2016 06:43 BST / 01:43 EDT by Serebii
Be sure to check the last two updates for huge news. This update will be updated throughout the day. If you have any ideas for the site, be sure to send them in
With the new generation upcoming, and the Chatroom has been rife with discussion while the WiFi Chatroom has been a place for battles, trades and Friend Safari hunting, so be sure to visit them. Our Forums have also had these discussion and are a bustling trade and competitive section for the games. Be sure to like our FaceBook Page.
Last Update: 18:30 BST
Edit @ 08:22: Pokémon Sun & Moon | Edit @ 11:37: Character Biography | Edit @ 12:19: Episode Pictures | Edit @ 12:41: Nintendo Badge Arcade | Edit @ 18:30: World Championships Restrictions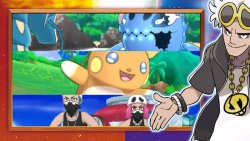 In The Games Department
Pokémon Sun & Moon
Following the leak last night, the Japanese Youtube has uploaded the footage for the new Pokémon and Alola Form Raichu that were revealed last night. It also confirms that Wishiwashi will change back from School Form to Solo Form after it has received a certain amount of damage and that Pyukumuku's ability seems to caught the opponent to take damage when it faints. This footage also reveals Team Skull and showcases that they use Pokémon inside their Ultra Balls and Nest Balls, rather than the standard Poké Ball which is a first for the series
08:38: Our New Pokémon, Alola Form Pokémon & New Abilities pages have been updated with these Pokémon. 14:05: English trailer added
14:10: Clarification on the Innards Out ability: With the Innards Out Ability, when this Pokémon faints, it will be able to deal one last bit of damage to its opponent, equal to the amount of HP it had left before it received the final blow.
Edit @ 15:20: Created a page for Team Skull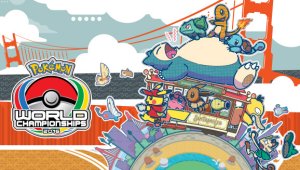 In The Games Department
Pokémon Video Game Championships
Ahead of the 2016 Pokémon World Championships in San Francisco next week, it has finally been officially announced that, unlike previous years, the World Championships will be closed to the general public with only participants and their families being given access. All access is via a special Pokémon World Championships badge given and while there are Guest passes, they will be on a first-come first-serve basis. The World Championships will be streamed and we'll be hosting the stream here. The full stream schedule has been revealed as well. The VGC will be hosted by Ray Rizzo, Duy Ha, Evan Latt, Jay Blake & Aaron "Cybertron" Zheng, the TCG by Kyle Sabelhaus, Kyle "Pooka" Sucevich, Kenny Wisdom, Josue Rojano & Josh "TheJWittz" Wittenkeller and Pokkén by D'ron "D1" Maingrette, Vish "ViciousVish" Kumar & Daniel "DC" Coke.
The main channel's stream will be as follows
Friday:
9:00 a.m.: Opening Ceremony
10:00 a.m.–1:45 p.m.: VGC Swiss rounds
1:45–5:30 p.m.: TCG Swiss Rounds
6:00–9:00 p.m.: VGC Swiss rounds

Saturday:
9:00 a.m.–11:00 a.m.: VGC Swiss Rounds
11:00 a.m.–12:15 p.m.: Pokkén Tournament Senior Division Finals
12:45–4:30 p.m.: Pokémon TCG Swiss Rounds
4:30–5:45 p.m.: Pokkén Tournament Masters Division Finals
6:00–10:00 p.m.: VGC Top Cut

Sunday:
9:00 a.m.: Pokémon TCG Junior Division Finals
Immediately following: Pokémon TCG Senior Division Finals
Immediately following: Pokémon TCG Masters Division Finals
30-minute break
Immediately following: VGC Junior Division Finals
Immediately following: VGC Senior Division Finals
Immediately following: VGC Masters Division Finals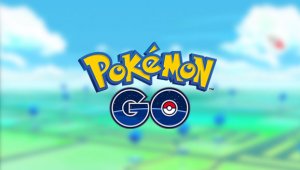 In The Games Department
Pokémon GO
A new patch has gone live for Pokémon GO on iOS devices. This patch is a stability patch which doesn't seem to alter the game much. It brings the game's version up to Version 1.3.1 and requires 174MB to download. If any further updates are found from this patch, this update will be altered.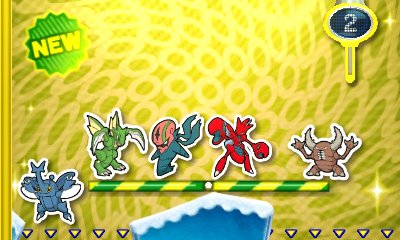 In The Games Department
Nintendo Badge Arcade
The free piece of Nintendo 3DS software, Nintendo Badge Arcade, had its weekly update in North America and with this update, it has added several new badges panels, all of which were previously released in Japan. Our section has a full list of badges so click the image to go to the section.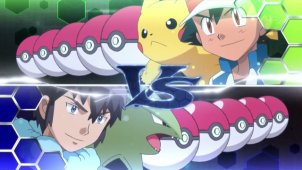 In The Anime Department
Pokémon XY & Z - Episode Pictures
As usual, we have done pictures from the episode that aired in Japan today. This episode features Ash & Alain's Kalos League Final Battle. The AniméDex has been updated with the contents of this episode. Click the picture to go to the gallery but be warned however as they contain spoilers.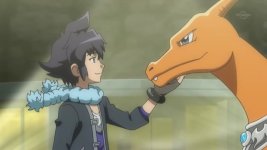 In The Anime Department
Pokémon XY - Character Biography
With the episode that just aired in Japan, I have been able to update a biography. This biography is for the character, Alian and features some Pokémon he uses that were introduced in this week's episode. Click the image to go to the biography, but be warned as it contains spoilers