15-03-2016 03:18 GMT / 23:18 EDT by Serebii
This update may be amended throughout the day so be sure to check back. If you have any ideas for the site, be sure to send them in
With the generation continuing and Nationals coming up globally, and the Chatroom has been rife with discussion while the WiFi Chatroom has been a place for battles, trades and Friend Safari hunting, so be sure to visit them. Our Forums have also had these discussion and are a bustling trade and competitive section for the games. Be sure to like our FaceBook Page.
Last Update: 12:27 GMT
Edit @ 04:05: Dragonite Event | Edit @ 04:11: Battle Competition | Edit @ 06:06: Shuffle Updates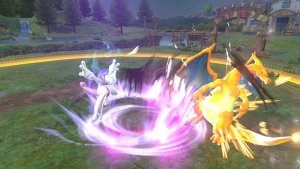 In The Games Department
Pokkén Tournament - LAN Battle
The official website has posted some full instructions on how to activate LAN Battle mode in Pokkén Tournament for Wii U, ahead of its launch on Friday. LAN Battle allows you to do local multiplayer without having the game's frame rate drop from 60fps to 30fps. There are three different routes that can be taken. Here are the requirements for each one:

Route A
Route B
Route C
2 Wii Us
2 Pieces of Software
2 TVs*
2 Wii U LAN Adapters
2 Straight LAN Cables
1 Router
2 Wii Us
2 Pieces of Software
2 TVs*
1 Wireless Router
2 Wii Us
2 Pieces of Software
2 TVs*
2 Wii U LAN Adapters
1 Crossover LAN Cable
* Can be substituted for the Wii U GamePad display
For Route C, various additional requirements are included. While A & B just need you to set the Internet options on the Wii U to Wired and Wireless respectively, this option requires a bit more sorting. First, you need to set both Wii Us up to connect via Wired Connection. When the test fails, cancel out but save the connection. Go into the settings for the connection and change the IP to 192.168.000.001 (or 192.168.000.002 on the second Wii U), Subnet Mask to 255.255.255.000 and Default Gateway to 192.168.000.050. For the DNS settings, set it as Do not automatically obtain and set Primary DNS to 1.0.0.0. Save the settings.
To activate LAN Battle in the game, you have to hold down L, R & Down on the D-Pad on the title screen. You can select the controller here
Edit @ 10:03: It is also confirmed that there will be a day one patch, Version 1.1, which will be required to access online functionaity for the game. It requires 370MB of space to download
Edit @ 12:27: Made an easy to check
LAN Battle page
which details the instructions on how to activate the LAN Battle mode and how to set up Wii U consoles for this mode.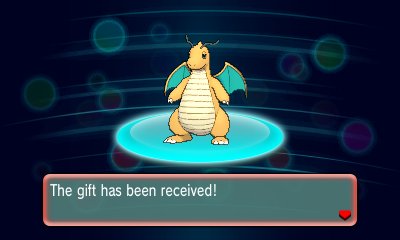 In The Games Department
Pokémon X, Y, Omega Ruby & Alpha Sapphire - Special Dragonite
For those of you who participated in the Kanto Classic Battle Competition last this month, the entry gift is now being distributed. This gift is a Dragonite, based on the Dragonite that Lance had during Pokémon Red, Green & Blue, and is special in that it knows the move Barrier, a move it can't normally learn. It is obtained via a Serial Code and the code given on the Global Link can be redeemed until midnight UTC on April 27th 2016 23:59 UTC. The Event Database has been updated with details of this event.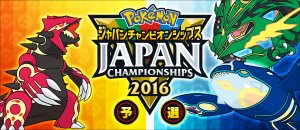 In The Games Department
Pokémon - Battle Competition
The next Battle Competition has been announced. This is the Japan only Japan Championships 2016 Qualifiers competition. This competition is a Double Battle competition and runs the current VGC rules. These rules allow for you to use two of the box Legendary Pokémon: Mewtwo, Lugia, Ho-Oh, Groudon, Kyogre, Rayquaza, Dialga, Palkia, Giratina, Reshiram, Zekrom, Kyurem, Xerneas, Yveltal & Zygarde. Registration runs from April 4th through April 28th while battles run from April 28th through May 1st. An entry gift has yet to be announced. This competition exists to provide players a chance to enter the Pokémon World Championships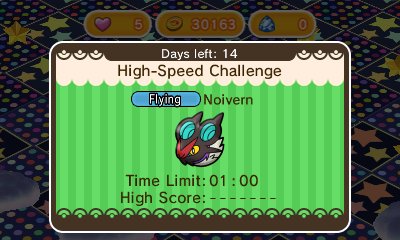 In The Games Department
Pokémon Shuffle - Events
A few brand new challenges have begun on Pokémon Shuffle and Pokémon Shuffle Mobile.
First, a special Noivern stage has begun on both Shuffle & Shuffle Mobile. This stage is a timed one and lasts until March 29th
Next, a Pokémon Safari has begun. This Safari has the Pokémon Hoothoot, Noctowl, Houndour, Houndoom, Pineco, Forretress & Noibat within it. It lasts until March 29th
Next, the Landorus stage has begun a repeat run on Shuffle & first run on Shuffle Mobile. It can only be played once a day with catch rates going up each day. It lasts until March 22nd
Finally, the Rotom Daily Pokémon stages have begun a repeat run on both Shuffle & Shuffle Mobile. They change each day and cannot be played on Saturdays & Sundays
All of these require the version 1.2.35 to download. Our Pokémon listings have been updated with these Pokémon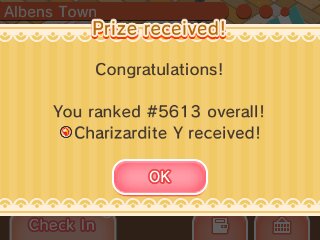 In The Games Department
Pokémon Shuffle - Events
If you were one of the lucky players worldwide who ranked in the Mega Charizard Y competitive stage over the past week, then the Charizardite Y is now available to be received. The Attack Power and Mega Speedup for the higher ranked players will also be obtained. If you didn't qualify, then you can redeem an Attack Power. To get these items, simply Check In between now and March 22nd 2016 at 06:00 UTC and you will receive the item.