18-02-2016 09:55 GMT / 04:55 EST by Serebii
This update may be amended throughout the day so be sure to check back. If you have any ideas for the site, be sure to send them in
With the generation continuing and Nationals coming up globally, and the Chatroom has been rife with discussion while the WiFi Chatroom has been a place for battles, trades and Friend Safari hunting, so be sure to visit them. Our Forums have also had these discussion and are a bustling trade and competitive section for the games. Be sure to like our FaceBook Page.
Last Update: 23:30 GMT
Edit @ 10:38: Episode Title | Edit @ 11:03: Episode Pictures | Edit @ 16:04: Pokkén Championships | Edit @ 16:50: Rumble World | Edit @ 17:00: 3DS Theme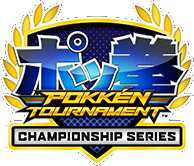 In The Games Department
Pokkén Tournament - US Championships
It was previously announced that there would be the Pokkén Championship Series which culminates in the World Championships in August. It has been just announced that there will be early access competitions held by Nintendo at Gamestop locations across the US. Winners from each region will get invited to a Regional final at the Nintendo NY store on March 17th and the top 2 winners will get an invite to the National Championships in Columbus Ohio in July. These Gamestop events are on Pokémon Day, February 27th, at the following Gamestop stores. Registration begins at 10am with battles from 11am to 5:30pm and entry is on a first come first served basis
2201 Preston Road, Plano, TX
1841 Chamblee Tucker Road, Chamblee, GA
3972 Barranca Parkway, Irvine, CA
8115 S. John Young Parkway, Orlando, FL
6451 W. Diversey Ave., Chicago, IL
242 Bellevue Square, Bellevue, WA
32 E. 14th St. – Union Square, New York, NY
3914 Rivermark Plaza, Santa Clara, CA
Like the TCG and VGC circuit, players will be split up into age brackets: players born in 2001 or later and players born in 2000 or earlier, and the winner of each bracket will get trained by professional Fighting game players before the Early Access Finals on March 17th. We'll bring more details as they come. In addition to this, a new trailer has been released for the game
Edit @ 23:30: Two new sets of Support Pokémon have been revealed: Yveltal & Latios, and Reshiram & Cresselia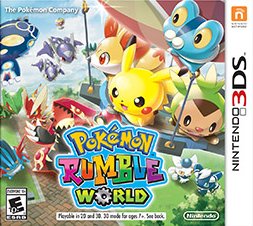 In The Games Department
Pokémon Rumble World
Following the release in Japan in November and Europe in January, it has been confirmed that Pokémon Rumble World will receive a retail release in North America on April 29th 2016. This release provides the game with all 3000 PokéDiamonds available from the outset, removing all microtransactions from the game. The game can communicate with download versions, but you cannot transfer data from the download version into the retail version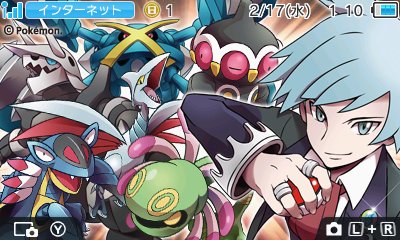 In The Games Department
Pokémon X, Y, Omega Ruby & Alpha Sapphire - 3DS Themes
Following the announcement of it for Europe on Monday and release in Japan yesterday, the Pokémon: Champion Steven 3DS theme is now available in North America. This theme features a still of Steven and his team on top with images from the Pokémon Adventures manga on the bottom screen. It has the Battle! Steven music from Pokémon Omega Ruby & Alpha Sapphire as its background music. This theme costs $1.99 to download.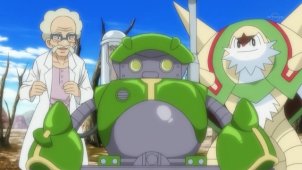 In The Anime Department
Pokémon XY & Z - Episode Pictures
As usual, we have done pictures from the episode that aired in Japan today. This episode features Ash & Co. helping a Chesnaught to revitalise a wilderness. The AniméDex has been updated with the contents of this episode. Click the picture to go to the gallery but be warned however as they contain spoilers.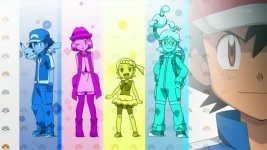 In The Anime Department
Pokémon XY & Z - Episode Titles
The TV Tokyo website has revealed another new episode title, this time for the ninteenth episode of Pokémon XY & Z. This episode is set to air on March 17th.
Episode 915: The Master Class Begins! A Maidens' Fight Where Sparks Fly!!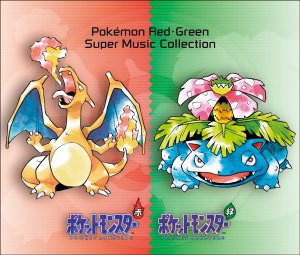 In The Pokémon Department
Pokémon Red & Green Soundtrack
Following a quiet reveal last week, the first image of the upcoming Pokémon Red & Green soundtrack has been released. This soundtrack is a re-release of the original Pokémon Red & Green soundtrack from 1997 but comes with an extra bonus. The first two discs contain the tracks from Pokémon Red & Green as well as all 151 Pokémon cries and a special bonus track while the second two discs contain a re-release of the Pokémon FireRed & LeafGreen soundtrack from 2004. It is to be released April 27th in Japan. No details on any western releases have been announced