05-07-2018 08:25 BST / 03:25 EDT by Serebii
This update may be amended throughout the day so be sure to check back. If you have any ideas for the site, be sure to send them in
Since the release of Pokémon Ultra Sun & Ultra Moon, the Discord Chat has been rife with discussion, so be sure to visit it. Our Forums have also had these discussion and are a bustling trade and competitive section for the games. Be sure to like our FaceBook Page.
Last Update: 20:35 BST
Edit @ 09:22: Pokémon Duel | Edit @ 12:08: Episode Pictures | Edit @ 14:14: Episode Titles | Edit @ 16:04: Tornadus & Thundurus | Edit @ 20:35: Pokémon GO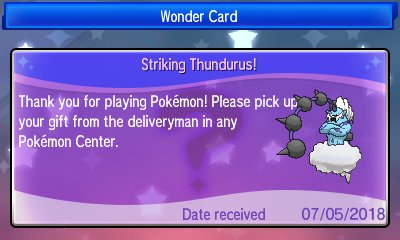 In The Games Department
Pokémon Sun, Moon, Ultra Sun & Ultra Moon - Tornadus & Thundurus Event
For those of you in Europe and Oceania, the sixth month of the Legendary Pokémon Year events have begun. From now until July 22nd 2018, players will be able to get a Thundurus in Pokémon Sun and Ultra Sun or Tornadus in Pokémon Moon and Ultra Moon simply by going through Mystery Gift > Get Via Internet. These distributions differ between Sun & Moon and Ultra Sun & Ultra Moon with the Pokémon being Level 60 in Sun & Moon and Level 100 holding a Gold Bottle Cap in Ultra Sun & Ultra Moon. Our Event Database has full details of this event.
This event will be distributed in North America through Target from July 13th and Canada through the official Pokémon Trainer Club Newsletter later this month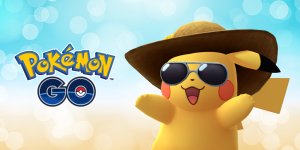 In The Games Department
Pokémon GO
Niantic have announced the next Pokémon GO event. This is the 2018 Anniversary event, running from July 6th at 20:00 UTC until July 31st and features increased Pikachu spawns in the wild and Pichu spawns in Eggs. However, in addition to this, special Summer Style Pikachu will also be available throughout the month. Finally, there's also a special avatar outfit focused on Pikachu that unlocks depending on how much of your Pikachu Fan medal you have completed. Finally, Niantic have confirmed that the Mythical Pokémon, Celebi, will be added to the game soon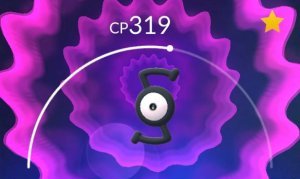 In The Games Department
Pokémon GO
This weekend, from today until Sunday, is the Japan Expo which is being held in Paris, France. With this, a special Poké Stop has appeared which has spawns of Unown letters J, A, P, N, E, X, & O, spelling out Japan Expo which will spawn around the event location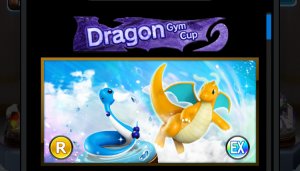 In The Games Department
Pokémon Duel - Update
The special Gym Cup, the Dragon Gym Cup has begun in Pokémon Duel. This Gym Cup increases the movement of Dragon-type figures and increases the White & Gold Attacks of Ice-type Pokémon by 20. Within this, you can get the Dragonair & Dragonite figures. It runs until June 9th 2018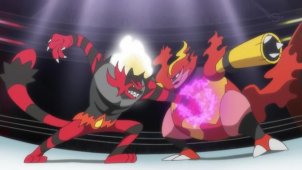 In The Anime Department
Pokémon Sun & Moon - Episode Pictures
As usual, we have done pictures from the episode that aired in Japan today. This episode features Ash come to the Masked Royal's aid in a Battle Royal. The AniméDex has been updated with the contents of this episode. Click the picture to go to the gallery but be warned however as they contain spoilers.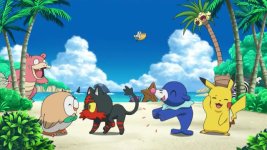 In The Anime Department
Pokémon Sun & Moon - Episode Title
Japanese TV Guides have revealed new episode titles for upcoming episodes of the anime. ThisThese episodes are due to air on July 26th, August 2nd and August 9th respectively. The first features Ash shrinking after an accident from an experiment by Faba. The second features Ash encountering Mina who can sense Pokémon's feelings but senses something in Poipole. The final episode features a Stakataka appear at the Pokémon School.
Episode 1026: Ash Becomes Tiny
Episode 1027: The Shape of Family: Poipole's Feelings!
Episode 1028: Leap 'n' Climb: Stakataka!