OK. To Avoid the current hassles there is this disclaimer for those Who want to use it without permission:
You shall not post this on anywhere for public use
You shall not sell this for public use
Do not replicate and forward without permission
Do not claim this as yours
Do Not Translate it into your language and claim ownership

Once again, Ash & Co. go to the Battle Royal Dome to see another Battle Royal. However, in the match, the Masked Royal seems to be in trouble when his Incineroar is in trouble due to dirty attacks. Ash's Torracat can't stand watching it and rushes into the ring. This causes Ash to join the Battle Royal as "Royal Ash". Can they get victory?

Full Guide coming Soon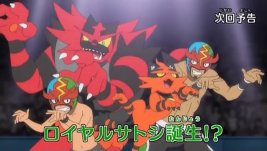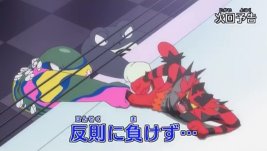 1024: A Young Royal Flame Ignites!!

1024: The Young Flame of Alola! The Birth of Royal Ash!!



Yes


Ash
Lillie
Mallow
Lana
Sophocles
Kiawe
Professor Kukui
Jessie
James
Professor Burnet
Viren
Mr. Electric
Mad Magma
Mimo
Hobbs


Ash:
Lillie:
Mallow:
Lana:
Sophocles:
Kiawe:
Professor Kukui:
Jessie:
Rocket:
Professor Burnet:
Viren:
Mr. Electric:
Mad Magma:
Special/Other Trainers:
Wild:


Torracat learns Revenge