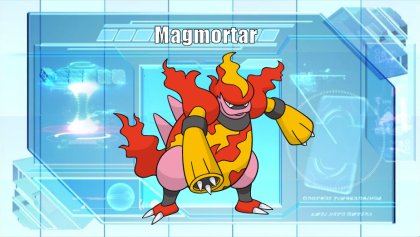 Magmortar, The Blast Pokémon. When Magmortar inhales deeply, the fire burning in its belly intensifies, rising in temperature to over 3,600 degrees Fahrenheit. Living in the crater of a volcano has caused this Pokémon's body to resemble its environment— it has an organ similar to a magma chamber. Fireballs launched from the ends of its tubelike arms are hot enough to melt an iron pot in an instant.
Overview
Magmortar has been left behind as the generations march on. This once hyped evolution of Magmar has gotten nothing for several generations and even the addition of Scorching Sands seems too little to late. For it was never the issue of Magmortar's coverage, which in conjunction with Thunderbolt and Scorching Sands covers most traditional Fire type checks, but instead its stats. In offense, speed, and defense, Magmortar is found wanting. Great Special Attack, but not high enough to wallbreak without boosting, which Magmortar lacks. Middling speed means that most of the competition can outstrip Magmortar and strike it first, which with its below average bulk and exposure to all entry hazards means that Magmortar just can't take a hit. When other, better Fire types exist in both utility and offense, there is little reason to use it over other picks like Moltres, Chandelure, Ninetails, Heatran and Blacephelon.
Positives
Base 125 Special Attack ensures that Magmortar always hits hard.
Impressive Special coverage in Thunderbolt, Fire STAB, Scorching Sands and Focus Blast ensures Magmortar has coverage for almost any foe.
Negatives
Inability to boost prevents Magmortar from getting past dedicated Sponges
Base 83 speed misses several important speed benchmarks, leaving Magmortar easily revenge killed.
Poor defenses and exposure to entry hazards gives Magmortar limited defensive utility.
Abilities are situational at best
Movesets
Crash and Burn
-Fire Blast
-Focus Blast
-Thunderbolt
-Scorching Sands
Item Attached: Choice Specs
Ability: Vital Spirit
EVs and Nature:
4 HP / 252 SAtk / 252 Spe
Timid Nature Specs Magmortar makes for an effective wallbreaker, being fast enough to outspeed dedicated tanks and walls, and having wide enough coverage to ensure almost nothing is safe switching in. Fire Blast for STAB and being able to melt the Steel types that often comprise a team's defensive backbone. Focus Blast answers Fire resistant targets missed by Magmortar's other coverage moves, such as Dragons like Druddigon, Water Ground types like Seismitoad and Quagsire, as well as important targets like Tyranitar, Heatran and Umbreon. Thunderbolt strikes down Water types that would normally be safe switch-ins while Scorching Sands does the same to Rock types. Vital Spirit is preferred for reliably answering Shiinotic, Lilligant and Amoongus, since Magmortar lacks the physical bulk to use Flame Body effectively.
DYNAMAX:
Dynamaxing Magmortar is decent. Breaking the Choice lock is a great surprise factor that can help Magmortar pick up a KO, and the general buff of Max moves offsets the loss in power from disabling Choice Specs. The extra bulk is greatly appreciated on Magmortar who normally struggles taking multiple hits, and setting up sun is a great boon for Magmortar's wallbreaking efforts, but it cannot escalate while under Dynamax, preventing it from being an optimal choice.
EVs and Items:
Standard Sweeper spread of Max Special Attack and Speed to inflict as much damage as possible. Timid nature improves Magmortar's matchup against more offensive teams, making it more likely it has targets it can outspeed and preventing it from being dead weight. Heavy Duty Boots is a great item for Magmortar and helps redress some of its bulk issues, but Heavy Duty Boots would be better off on a dedicated Defogger. Choice Scarf turns Magmortar into a threatening Revenge Killer, able to outspeed Timid Nature Base 130's and Neutral Dragapult.
Other Options:
Solarbeam -works great on Dynamax focused sets, able to break Water Ground types while being a more reliable option for Rock types as opposed to Focus Blast or Scorching Sands. Psychic -hits Kommo-o harder than any of Magmortar's moves, and is decent against Nihilego..
Partners:
Pokémon that can manage Entry Hazards are greatly appreciated due to the amount of switching Magmortar has to do. Whimsicott stands out at this role, having priority Defog to guarantee hazard removal, U-Turn to get Magmortar in safely, and can reliably take care of Water Ground types. Blastoise and Mantine also offer entry Hazard control and can reliably pivot into Water (and Ground for the latter) attacks while packing Ice Beam to answer Dragon types. Rotom and Silvally also excel at these roles with Defog to clear hazards and Volt Switch/Parting Shot respectively to get Magmortar in safely.
Countering Magmortar
Dragon types make reliable checks, often forcing Magmortar to rely on Focus Blast or Scorching Sands to deal with them. Goodra stands out for its titanic Special Defense, being the closest to a Magmortar counter there is.
Otherwise, checks are dependent coverage. Blissey, Chansey and Specially Defensive Tyranitar stomach anything other than Focus Blast, while Water Ground types like Gastrodon excel against sets not running Dynamax Solar Beam.
The best way to deal with Magmortar is revenge killing it. Lack of bulk and exposure to entry hazards make picking it off rather easy and if it tries to assuage its bulk with Assault Vest or Heavy Duty Boots it is giving up a lot of power that allows it to be more easily walled. Scarf sets are reliably outed by Super Effective priority users like Lycanroc-Midnight, Crawdaunt, and Azumarill.
Locations in Games
Red/Blue/Yellow:
Not in game
Gold/Silver/Crystal:
Not in game
Ruby/Sapphire/Emerald:
Not in game
FireRed/LeafGreen:
Not in game
Colosseum/XD:
Not in game
Diamond/Pearl/Platinum:
Evolve Magmar
HeartGold/SoulSilver:
Evolve Magmar
Black/White:
Evolve Magmar (White)
Black 2/White 2:
Evolve Magmar (Black 2)
X/Y:
Evolve Magmar
Omega Ruby/Alpha Sapphire:
Evolve Magmar
Sun/Moon:
Evolve Magmar
Ultra Sun/Ultra Moon:
Evolve Magmar
Let's Go, Pikachu!/Let's Go, Eevee!:
Not in game
Sword/Shield:
Slippery Slope, Giant's Bed, Snowslide Slope, Frigid Sea, Ballimere Lake
Max Raid Battles: Giant's Bed, Snowslide Slope, Ballimere Lake
Brilliant Diamond/Shining Pearl:
Evolve Magmar
Legends: Arceus:
Space-time Distortion in Coronet Highlands
Evolve MAgmar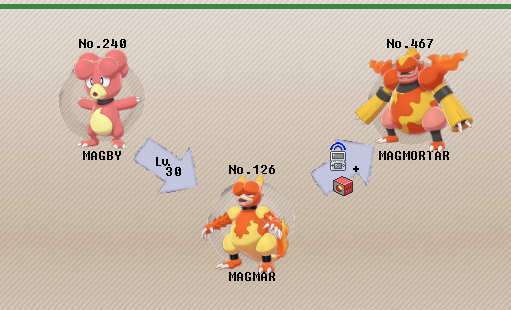 Anime Appearences
| | |
| --- | --- |
| Magmortar made a few appearances. Most notably, it was used by Paul during his Sinnoh League campaign. | |