Sunday: Pokémon of the Week
29-11-2009- 10:44 GMT / 05:44 EST by Serebii
I have started updating a variety of pages that I have inadvertantly left un-updated, including Animé Character biographies. If there's a thing you think I should update, let me know. With that in mind, with the release of HeartGold & SoulSilver in the US just a few months away, if there's anything we haven't covered on the site that you'd like me to cover, contact me with these details.
Since Heart Gold & Soul Silver have been released, the Chatroom & WiFi Chatroom have been booming with discussion & trade respectively so be sure to visit them.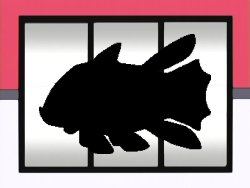 In The Pokémon of the Week Department
Who's That Pokémon
Once again going into the 4th Generation Competitive Battling strategies, we are covering our one-hundred & fourty-second Pokémon. Today, we are covering a Pokémon introduced within the third generation. This Pokémon originally was only found deep underwater using the move Dive. Its form has not changed in over 100 million years. So here it is, the one hundred & fourty-second featured Pokémon, Relicanth.