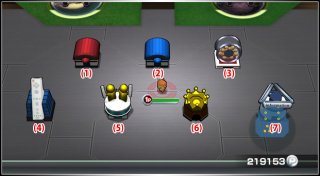 The Terminal is part of the main hub on the game. In the Terminal, you can find many various functions for you to be able to fully enjoy the game including spending of the money or obtaining various Pokémon. The features are as follows
Unknown Recruiting: The top-left area in the Terminal will drop out special Pokémon. This area will drop Pokémon out if you find their specific tickets after you have released other Pokémon. Alternatively, the official site will occassionally post passwords for special Pokémon. These passwords will be posted here.
Pokémon Releasing: If you have too many of a certain Pokémon or wish to get rid of some, you do so in the blue shed. Once you remove a Pokémon, they will leave you a special ticket which may be used to obtain other Pokémon in the previously mentioned area.
Attack Teaching: The third area, a roulette of sorts will allow you to exchange the currency earned in the main game for new attacks for your Pokémon. As your Pokémon can only have two attacks in this game, you'll have to think more strategically than in the main games.
Wii Remote: The fourth area will allow you to transfer some of your Pokémon from this game onto your Wii Remote in order for you to take it to a friend's house to play with your own Pokémon.
Multiplayer: The fifth area is where you need to go to select the multiplayer game. This accesses the multiplayer Battle Royale mode. Work in co-operation with them to get through the Battle Royale and also try to beat their score
Collection: The sixth area gives you access to look at the Pokémon whom you have obtained within the game.
Information: The final area allows you to get into the options of the game as well as view pictures you take while in the game.