24-01-2017 04:02 GMT / 23:02 EST by Serebii
This update may be amended throughout the day so be sure to check back. If you have any ideas for the site, be sure to send them in
With the new generation out, the Chatroom has been rife with discussion while the WiFi Chatroom has been a place for battles, trades and Friend Safari hunting, so be sure to visit them. Our Forums have also had these discussion and are a bustling trade and competitive section for the games. Be sure to like our FaceBook Page.
Last Update: 19:34 GMT
Edit @ 06:07: Pokémon Shuffle Events | Edit @ 10:04: Pokémon Bank Details | Edit @ 13:47: Pokémon Duel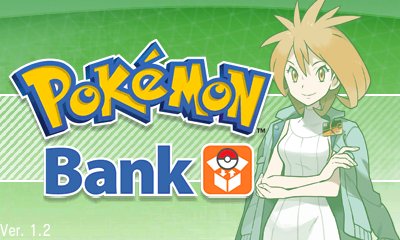 In The Games Department
Pokémon Bank
Nintendo Hong Kong has put out some details about the upcoming Pokémon Bank update, specifically in regards to the Generation 1 transfer. First, transferred Pokémon will likely have at least 3 max IVs. Their nature will be random and there is a chance that the Pokémon will have their Hidden Ability. It will also have a unique GameBoy mark
The National Pokédex will sync up with the games you use with Pokémon Bank, listing the Pokémon you have seen/caught in each game and combining them. It will list the games that you have each Pokémon in. You don't need the Pokémon to be deposited into your Bank in order to register them in the National Pokédex. Finally, it confirms that you can send Battle Points again. Finally, it shows that you can track a variety of stats from your games such as Eggs Hatched, Pokémon Captured etc. through Pokémon Bank, crossreferencing between all 6 games.
No date has been given but we'll provide full details as they come so keep checking back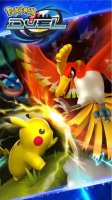 In The Games Department
Pokémon Duel
It has been confirmed that the mobile game, Pokémon Comaster, released last year on iOS and Android is to be renamed as Pokémon Duel and is currently available on iOS & Android platforms in North America and Europe. We have been gradually covering the game over the life of the Japanese one and will begin localisation details for this game over the next couple of days so be sure to keep checking back.
Edit @ 17:50: Updated our Figure Listing with up to date English descriptions. Plate list coming shortly
18:34: Updated the Plate Listing with details on the plates. If you see a plate we don't list, feel free to let us know
19:34: Updated the Stage Listings with full details on all English stages and challenges on each of the stages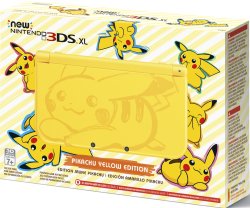 In The Games Department
Pokémon 3DS
It has been confirmed that the special Pikachu Yellow New Nintendo 3DS XL is to be released in North America on February 24th 2017 for $199.99. This 3DS was released in Japan last year. It doesn't come with any additional games but features a cute Pikachu decal on the case of the console.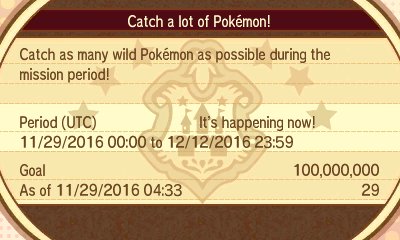 In The Games Department
Pokémon Sun & Moon - Global Missions
The third Pokémon Sun & Moon Global Mission has been announced. This Global Mission's theme involves trading Pokémon through the Pokémon Global Trade Station. The target is not currently known. This Mission runs from next week, January 31st 2017 04:00 UTC until February 14th 2017 23:59 UTC.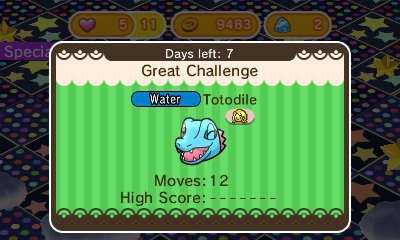 In The Games Department
Pokémon Shuffle - Events
A few brand new challenges have begun on Pokémon Shuffle and Pokémon Shuffle Mobile.
First is a special stage for Totodile (Winking). This stage runs for a week until January 31st 2017
Next, a stage for the Pokémon Wailord has begun. It will run until February 7th 2017
A returning Pokémon Safari with new Pokémon has begun. This Safari has got Shellder, Cloyster, Shiny Magikarp, Shiny Gyarados, Pidove, Tranquill and Unfezant within it, as well as newcomers of Snorunt (Winking) and Glalie (Winking) . It runs until February 7th 2017
Finally, stages for Gyarados, Kyogre and Groudon are returning until February 7th 2017
All of these require the version 1.3.35 to download. Our Pokémon listings have been updated with these Pokémon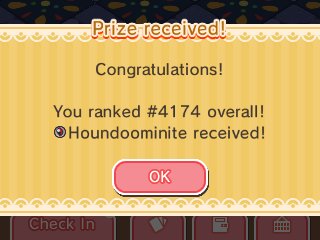 In The Games Department
Pokémon Shuffle - Events
If you were one of the lucky players worldwide who ranked in the Mega Houndoom competitive stage over the past week, then the Houndoominite is now available to be received. The Attack Power, Mega Speedup and Raise Max Level for the higher ranked players will also be obtained. If you didn't qualify, then you can redeem an Attack Power. To get these items, simply Check In between now and January 31st 2017 at 06:00 UTC and you will receive the item.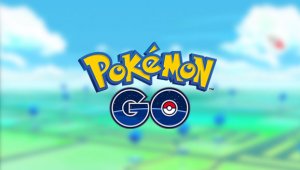 In The Games Department
Pokémon GO Patch
The next update to Pokémon GO has been announced. This update adds Korean Language support to tie in with the release of Pokémon GO in South Korea today. This patch is rolling out now so is currently available.