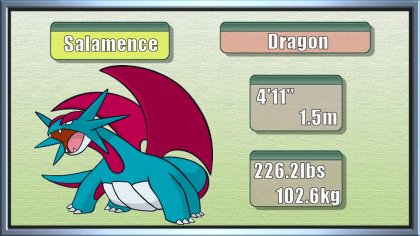 Salamence, The Dragon Basin Pokémon. It's uncontrollable if enraged. It flies around spouting flames and scorching fields and mountains. As a result of its long-held dream of flying, its cellular structure changed, and wings grew out.
Overview
Salamence is a powerhouse. Great movepool, huge Attack, great Special Attack and a nice Speed all add up to a great Pokémon and a huge threat. Not to mention the potential it has for defensive sets. Salamence shouldn't be overlooked in any way. The jump to 5th gen didn't bring much more to Salamence than it already had. It gained a new ability and a few moves, but is used in mostly the same way as it has been for the three generations it has existed.
Abilities
Intimidate: Intimidate is one of the best abilities going, as it temporarily increases your physical bulk by one stage on the switch in. It forces switches or just let's you take hits from that Pokémon better. Regardless, it means you can set up or you can smash the defending Pokémon with a huge attack.
Moxie: the more you kill, the stronger you get. Sadly, this ability isn't legal with Outrage, which is its most powerful physical attack. You could partner it with Dragon Dance and be stupidly threatening after a DD, as everything you take out means you get +1 Attack. Sadly, Intimidate is just better.
Movesets
New MixMence! It's still the same...
- Outrage
- Draco Meteor
- Fire Blast
- Earthquake / Brick Break
Item Attached: Life Orb
Ability: Intimidate
EVs and Nature:
EVs: 24 Atk / 232 SpA / 252 Spe
Naive Nature (+Spd, -SpD)
Yeah, it's the same as last gen, but surely that's proof of how good it is? Anyway, everyone who has played 4th gen OU knows what this beast does. Outrage is scary strong with a base power of 120 as well as STAB. The lock and confusion are issues, so don't throw Outrage around like its a toy. Draco Meteor thrashes a lot of Pokémon that'd take Outrage well. Fire Blast decimates any Steels not called Heatran, and it also partners brilliantly with the Dragon moves. Earthquake leaves you with perfect coverage as well as another very powerful attack, but Brick Break is an option for Air Balloon using Pokémon.
And can you welcome to the stage...
- Outrage
- Earthquake
- Stone Edge
- Fire Blast
Item Attached: Choice Band
Ability: Intimidate
EVs and Nature:
EVs: 252 Atk / 4 SAtk / 252 Spd
Naive Nature (+Spd, -SDef)
Outrage is scary strong with Choice Band. It is so dangerous it feels dirty. Earthquake wrecks Steels that aren't floating, and partners up really well with Outrage and Stone Edge. Speaking of Stone Edge, it hits common switch ins like Gyarados really hard. Fire Blast handles any Steels that feel like defying gravity or going for a fly, such as Bronzong and Skarmory.
… the dancing dragon!
- Dragon Dance
- Outrage
- Earthquake
- Fire Blast
Item Attached: Life Orb
Ability: Intimidate
EVs and Nature:
EVs: 232 Atk / 20 SAtk / 252 Spd
Naive Nature (+Spd, -SDef)
Another classic Salamence set. Dragon Dance improves Salamence's Attack and Speed in a single turn, pushing you to the brink of deathly threatening. Outrage is outrageous... HAH! Earthquake is an amazing physical attack, blah blah blah. Fire Blast beats down physically defensive Steels.
The original 4th gen Salamence
- Draco Meteor
- Dragon Pulse
- Fire Blast
- Hydro Pump
Item Attached: Choice Specs
Ability: Intimidate
EVs and Nature:
EVs: 4 HP / 252 SAtk / 252 Spd
Timid Nature (+Spd, -Atk)
Hell yeah, getting retro. Draco Meteor is your power move here with a whopping 210 base power including STAB. It pretty much demolishes everything. Dragon Pulse is your reliable attacking move after you have weakened everything with Draco Meteor. Fire Blast takes out SpecsMence's most common switch ins, with Hydro Pump there to take out Heatran.
Bulky DDer
- Dragon Dance
- Dragon Claw
- Earthquake
- Roost
Item Attached: Leftovers
Ability: Intimidate
EVs and Nature:
EVs: 252 HP / 16 Def / 216 SDef / 24 Spd
Careful Nature (+SDef, -SAtk)
Dragon Dance brings your Attack and Speed up to high levels, even with little EV investment. Dragon Claw is needed here rather than Outrage as confusion would ruin the point of this set. Earthquake combos really well with Dragon Claw, then you have Roost to heal any damage you take, as well as being useful when stalling out moves like Stone Edge.
ResTalkDDPhazer
- Rest
- Sleep Talk
- Dragon Dance
- Dragon Tail
Item Attached: Leftovers
Ability: Intimidate
EVs and Nature:
EVs: 252 HP / 16 Def / 216 SDef / 24 Spd
Careful Nature (+SDef, -SAtk)
I personally love this set. Rest and Sleep Talk are rarely ever seen on Pokémon like Salamence, but when Salamence is made bulky, the combo works great on the powerhouse Dragon. Dragon Dance boosts your Attack but more importantly your Speed. Dragon Tail is an incredible move introduced with the 5th generation of Pokémon. 60 base power with a phazing effect. Basically, it's an attacking Roar. Salamence gets STAB on Dragon Tail bringing it up to an acceptable base power. Sadly, like Roar, Dragon Tail has negative priority. However, Sleep Talk ignores priority, so combined with the Speed increase from Dragon Dance, you will be phazing in your sleep with huge bulk, good Attack and Speed, and not often being outsped.
When you wish upon a star...
- Toxic
- Flamethrower
- Roost / Wish
- Dragon Tail / Protect
Item Attached: Leftovers
Ability: Intimidate
EVs and Nature:
EVs: 252 HP / 24 Def / 216 SDef / 16 Spd
Calm Nature (+SDef, -Atk)
OH GOD IT WAS A DRAGON. Toxic is a cool move that helps break bulky Pokémon down. Flamethrower combos well with Toxic as Steels will be sent in to block it. Roost heals you instantly and takes away Salamence's Flying type weaknesses. However, Wish can give Salamence some team support whilst still allowing it to heal itself. However, Roost is generally better. Dragon Tail is the best Dragon move in the fourth slot, replacing the now pretty much pointless Roar. Protect is an option though if you are using Wish, as it stalls for Wish and stalls for Toxic damage.
EVs & Natures
New MixMence! It's still the same...
Max Speed is required. Outrage is already stupidly powerful, which is why there's a lot more Special Attack than Attack.
And can you welcome to the stage...
No reason to run anything but max Attack and max Speed.
… the dancing dragon!
20 Special Attack allows for a OHKO on Pokémon like Skarmory with Fire Blast. Max Speed and nearly max Attack for obvious reasons.
The original 4th gen Salamence
You want max Special Attack and Speed because you want to be hitting hard and fast.
Bulky DDer
Max HP means you take hits a lot better. 216 SDef gets an extra stat point when you are running a +SDef Nature. The Speed allows you to beat Starmie and other base 115s after a single Dragon Dance. The Defence is leftover.
ResTalkDDPhazer
Exactly the same as the bulky Dder, for the same reasons.
When you wish upon a star...
No point in running more Speed than needed, so sitting at 240 is nice, and only costs 16 Speed. The other EVs are the same as every other bulky Salamence.
Other Options
Choice Scarf, Lum Berry, Aqua Tail, Crunch, Dragon Rush, Hone Claws
Choice Scarf makes Salamence into a pretty effective revenge killer thanks to Intimidate, great coverage, high Speed and awesome offensive stats.
Lum Berry is an option over Life Orb on any offensive set, as it stops burns, paralysis and confusion from Outrage.
Aqua Tail is another physical attack that can be used on physically offensive sets if you feel it is needed.
Crunch is a physical attack that is more or less pointless. Even if it hits for super effective damage, Outrage would hit harder due to STAB.
Dragon Rush works perfectly with Hone Claws thanks to the accuracy boost.
Hone Claws is a new boosting move that boosts Attack and Accuracy. That sounds all good, but Dragon Dance is so much better.
Double & Triple Battle Options
Salamence's Intimidate really is awesome in Double and Triple battles as it covers multiple Pokémon. In fact, it covers all three opposing Pokémon if it is in the middle. It also has Earthquake to cover the entire field, as well as brutal single targeting moves like Draco Meteor. In Triple battles it can use its Flying STAB moves to hit Pokémon not opposite to it, which could be useful. Overall, Salamence isn't the most effective Pokémon for multi-Pokémon battles, but it does have some use.
Partners
Pokémon that can remove Steels are good partners for Salamence. Magnezone and Salamence resist every type in the game, and Magnezone can decimate any Steels before you bring in Salamence to Outrage everything. Ferrothorn is an awesome partner thanks to its great resistances, general bulk and its ability to stop rain teams. Swift Swim users will often be outspeeding Salamence and throwing an Ice Beam at its face, so being able to switch something in safely everytime is a huge blessing. Heatran, Metagross, there are plenty of Steels that work well. Starmie works well as it can Rapid Spin Stealth Rock away and it can help against revenge killers like ScarfChomp, ScarfGon and others similar to it. Speaking of Chomp, Garchomp works well with Salamence despite the similar weaknesses and sets. They can weaken their counters due to having more or less the same switch ins, meaning once one goes down, the other can jump in and have an easy sweep.
Countering Salamence
The perfect counter to Salamence is Cresselia. With enough bulk to survive anything it can do whilst still being able to destroy it with Ice Beam, Cresselia really is the best counter you can get. Bulky Waters do really well against it, especially Suicune and Gyarados. Steels are awesome counters, such as Ferrothorn, Forretress, Heatran, Skarmory, just watch out for Fire Blast and Earthquake. Gliscor takes on the physical sets well, as do most other bulky Grounds like Hippowdon and Donphan. Revenge killing Salamence is always a good plan, be it with Imposter Ditto, ScarfChomp, ScarfStarmie, Ice Shard, whatever. As long as it works, it works. Whimsicott is a particularly annoying Pokémon as it can Encore or Taunt the Dragon Dance, then switch to something that forces you out. Very frustrating. Stealth Rock really ruins Salamence's day, as it means less Life Orb usage and more fear of switching in and out to abuse Intimidate. If you can burn or paralyse Salamence, you've basically already beaten it. Cloyster can be used to counter Salamence as long as you avoid any special attack. It can use it as set up material for Shell Smash, which could easily lead to a 6-0 sweep. Salamence is really, really threatening. Always make a team with it in mind, whether you are meaning to counter it or use it. It was a Pokémon that was deemed uber in late 4th gen, which is surely a testament to how powerful and dangerous it is. Even with all the new powerhouse Dragon Pokémon like Sazandora and Ononokusu, Salamence is still a top contender for one of the best Pokémon in OU.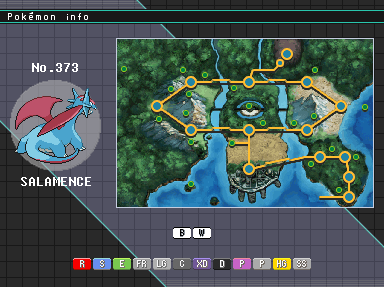 Locations in Games
Ruby/Sapphire/Emerald:
Evolve Shelgon
FireRed/LeafGreen:
Trade from RSEXD
Colosseum/XD:
Snagged from Cipher Admin Eldes in Citadark Isle (XD)
Trade from RSE (Colosseum)
Diamond/Pearl/Platinum:
Evolve Shelgon (Pearl/Platinum)
Trade from RSEPPtHGSS (Diamond)
HeartGold/SoulSilver:
Evolve Shelgon
Black/White:
Evolve Shelgon (White)
Trade from White (Black)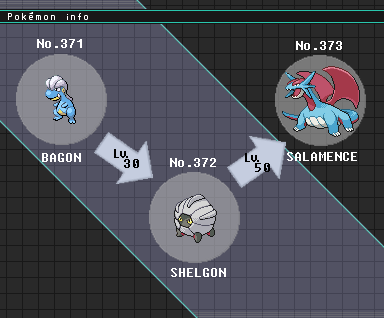 Animé Appearences
| | |
| --- | --- |
| Salamence has had a few Animé Appearences. Most notably, one was owned and used by Pokémon Hunter J in her various schemes within Sinnoh. In addition to that, Elite Four member Drake also had one. | |