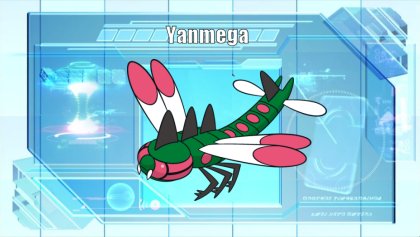 Yanmega, The Ogre Darner Pokémon. This six-legged Pokémon is easily capable of transporting an adult in flight. The wings on its tail help it stay balanced. It prefers to battle by biting apart foes' heads instantly while flying by at high speed.
Overview
Having gained a much needed evolution in DPP, Yanmega is an interesting Pokemon. Yanmega was one of many Pokemon to benefit greatly from the new physical/special split, taking a focus on Special Attack despite its typing being previously physical focused. As a focused specially offensive Bug-type, Yanmega didn't come out as one of the best, but it's far from a minor threat due to two amazing abilities in Tinted Lens and Speed Boost. Yanmega may just appear to be yet another Bug/Flying Pokemon with few redeeming qualities, but it does manage to sneak by with enough options for a fun pick.
Positives
Abilities - Both Speed Boost and Tinted Lens are strong enough abilities to break Pokemon, see Blaziken as an anecdote of the former. These are definitely a bit wasted on Yanmega but are major reasons to even consider using Yanmega. The fact that nothing actually can resist Yanmega is a major upside of the Pokemon, especially as a Bug-type, and being able to abuse Choice Specs so well makes it a powerful revenge killer.
Offensive Stats - While not fantastic, Yanmega is no slouch in the offensive department. 116 Special Attack ensures Yanmega will hurt most things that aren't specially defensive, while 95 Speed gives Yanmega a decent Speed tier, especially for Speed Boost sets.

Negatives
Defensive Stats - Yanmega has weak defenses meaning that bulky Pokemon can easily remove Yanmega in 2-3 hits. Its physical bulk isn't that bad but its special bulk is so bad that even resisted hits will hurt a lot. With Yanmega's typing, this means that the window for getting in and applying pressure is hard which results in a lot of leaning on U-Turn and Volt Switch support.
Typing - Yanmega sadly has terrible typing making it 4x weak to Stealth Rock. This limits how often Yanmega can come in and look to gain momentum as it will lose half its health. This also makes it mandatory to run a hazard remover, but with the new Defog tutor this is much easier support to provide.
Abilities
Tinted Lens - Not very effective attacks deal double damage - This is one of the best abilities in the game up with things like Bulletproof and Adaptability. There is little reason to not use this ability on a wallbreaking set, ignoring a resistance is a huge deal for a Pokemon with such shaky offensive typing.
Speed Boost - Raises Speed by 1.5% at the end of each turn - A solid ability as it allows Yanmega to really abuse Choice Specs and act as a sweeper, but overall weaker than Tinted Lens. This is an option that few other Pokemon have though so it's still worthy of consideration.
Frisk - Reveals opponent's Held Item - This isn't exactly a worthless ability, but it's thoroughly inferior to either of Yanmega's other abilities. Avoid using this ability at all costs.
Movesets
Choice Specs
- Air Slash
- Bug Buzz
- Giga Drain
- U-Turn
Item Attached: Choice Specs
Ability: Tinted Lens
EVs and Nature:
4 Def / 252 SpA / 252 Spe
Timid Nature
With Choice Specs and Tinted Lens Yanmega is a powerful wallbreaker. Bug Buzz is the main STAB, Tinted Lens makes it very powerful while Air Slash is slightly weaker but hits a few things that Bug Buzz doesn't hit as hard. This is primarily important for Pokemon such as Moltres and Talonflame that have a 4x resistance to Bug Buzz, or otherwise Flying-weak Pokemon. Giga Drain is a nice coverage, dispatching Water- and Ground-type threats with ease. U-Turn is a nice final option as it can allows momentum and allows Yanmega to bait in threats, as Yanmega will often force switches due to its power.
Life Orb
- Air Slash
- Bug Buzz
- Giga Drain
- Protect
Item Attached: Life Orb
Ability: Speed Boost
EVs and Nature:
4 Def / 252 SpA / 252 Spe
Modest / Timid Nature
With Speed Boost Yanmega can act as a powerful sweeper, easily cleaning up weakened threats at the end of the game. Bug Buzz is still the main STAB move, decently spammable despite lacking the Tinted Lens boost, while Air Slash is a slightly less powerful STAB with better coverage and a nasty flinch chance. Giga Drain is still nice for coverage, dispatching Ground-type threats pretty easily while providing some healing from the Life Orb recoil. Protect is a staple for Speed Boost sets to get a free buff, though be careful of giving an opponent a free turn when using this.
Other Options
Ancient Power - Ancient Power can be used over Giga Drain to allow Yanmega to OHKO Moltres but that's all it does.
Items - You can mix up items with the abilities, Tinted Lens with an Expert Belt can allow some nice damage into Pokemon that assume Yanmega is choice locked or Choice Specs with Speed Boost to try and sweep similar to Salamence. Buginium Z with Bug Buzz can also be a neat surprise but will typically be inferior to a Choice Specs set.
Partner Ideas
Hazard Control - Controlling hazards is a must for Yanmega and makes Rapid Spin and Defoggers excellent partners. Gligar is a strong option as it can Defog and set up Stealth Rock, while Forretress can spin hazards and set up Spikes which Yanmega likes to help secure some OHKOs. However, Forretress shares a Fire weakness so that will need to be addressed as well, though the Volt Switch support it provides can help keep some momentum against this.
Nidoqueen - Nidoqueen can easily take a lot of the threats that are a problem for Yanmega while providing Stealth Rock and Toxic Spikes. Nidoqueen also can slowly chip at defensive walls like Snorlax and just remove threats such as Mega Steelix and Florges that wall Yanmega otherwise.
Countering Yanmega
Snorlax - With its high Special Defense and Health, Snorlax is a strong answer to Yanmega. Being Normal type, Snorlax isn't impacted by Tinted Lens and can threaten Yanmega with powerful Returns or Pursuits while Yanmega can't do much back to it.
Moltres - Resisting both of Yanmega's STAB moves, Moltres can easily stop Speed Boost Yanmega and if EVed defensively, it can easily resist Tinted Lens Yanmega and threaten back with Flamethrower. Offensively Moltres does lose in Speed but can easily threaten Yanmega or just revenge kill with a Choice Scarf. It only really needs to fear the rare Ancient Power or Air Slash flinches.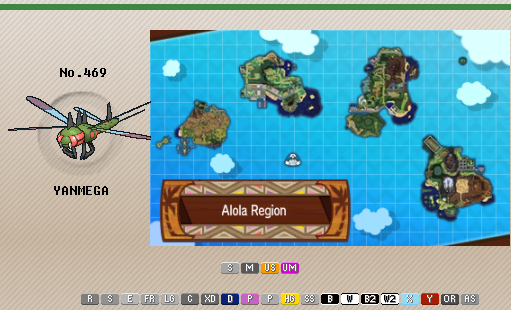 Locations in Games
Red/Blue/Yellow:
Not in game
Gold/Silver/Crystal:
Not in game
Ruby/Sapphire/Emerald:
Not in game
FireRed/LeafGreen:
Not in game
Colosseum/XD:
Not in game
Diamond/Pearl/Platinum:
Evolve Yanma
HeartGold/SoulSilver:
Evolve Yanma
Black/White:
Evolve Yanma
Black 2/White 2:
Route 3, Pinwheel Forest
X/Y:
Evolve Yanma
Omega Ruby/Alpha Sapphire:
Trade from X/Y
Sun/Moon:
Trade from Ultra Sun & Ultra Moon
Ultra Sun/Ultra Moon:
Ultra Space Wilds
Let's Go, Pikachu!/Let's Go, Eevee!:
Not in game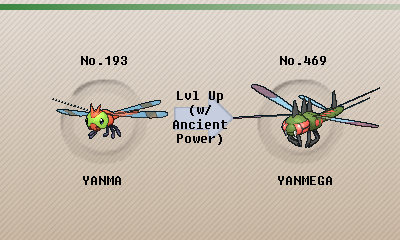 Animé Appearences
| | |
| --- | --- |
| Yanmega has made a few appearances in the anime. Most notably it was used by Jessie during her Sinnoh League journey. | |