OK. To Avoid the current hassles there is this disclaimer for those Who want to use it without permission:
You shall not post this on anywhere for public use
You shall not sell this for public use
Do not replicate and forward without permission
Do not claim this as yours
Do Not Translate it into your language and claim ownership

With the strength of all of their Z-Moves combined, Ash, Lana, Kiawe & Gladion do their best to rescue Nebby and help Necrozma. However, back in Alola, Team Rocket are still trying to get into the wormhole to get Necrozma. Will Ash & Co. be able to help Necrozma return to being what is known in legend as The Blinding One and will they be able to save Poipole's world and Alola?

Full Guide coming Soon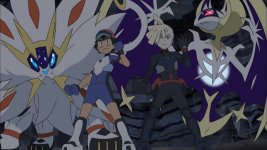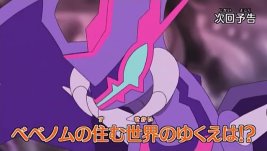 1033: Securing the Future!

1033: Connect to the Future! The Legend of the Blinding One!!



Yes


Ash
Lillie
Mallow
Lana
Sophocles
Kiawe
Gladion
Professor Kukui
Jessie
James
Matori
Lusamine
Faba
Wicke
Professor Burnet
Gozu
Hala
Olivia
Acerola
Nanu
Anna
Anela
Cheren
N
Plasma Grunt


Ash:
Lillie:
Mallow:
Lana:
Sophocles:
Kiawe:
Gladion:
Professor Kukui:
Jessie:
James:
Rocket:
Faba:
Acerola:
Anela:
Gozu:
Hala:
Olivia:
Nanu:
PokeRide:
Matori:
Special/Other Trainers:
Wild:


Poipole remains in its own homeworld