OK. To Avoid the current hassles there is this disclaimer for those Who want to use it without permission:
You shall not post this on anywhere for public use
You shall not sell this for public use
Do not replicate and forward without permission
Do not claim this as yours
Do Not Translate it into your language and claim ownership

The Alola League Trophy Ceremony got interrupted by the opening of an Ultra Wormhole and the mysterious Ultra Beast Guzzlord coming through and starts devouring the League venue. Ash, the Island Kahunas, his friends and the Masked Royal all must band together to stop the Ultra Beast from destroying the world. However, this Guzzlord is not the only Ultra Beast comin through the Ultra Wormhole...

Full Guide coming Soon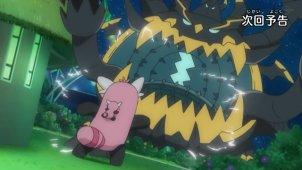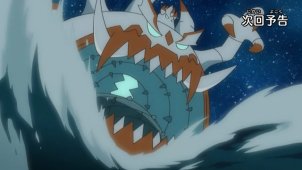 1083: Z-Move Showdown!

1083: Guzzlord Attacks! The Decisive Z-Move Battle!!



Yes


Ash
Lillie
Mallow
Lana
Sophocles
Kiawe
Professor Kukui
Gladion
Jessie
James
Professor Oak
Delia Ketchum
Lusamine
Faba
Wicke
Professor Burnet
Hau
Hala
Olivia
Nanu
Hapu
Dia


Ash:
Lillie:
Mallow:
Lana:
Sophocles:
Kiawe:
Professor Kukui:
Gladion:
Jessie:
Rocket:
Hala:
Olivia:
Nanu:
Hapu:
Hau:
Dia:
PokeRide:
Special/Other Trainers:
Wild:


Ash's Poipole returns having evolved into Naganadel