OK. To Avoid the current hassles there is this disclaimer for those Who want to use it without permission:
You shall not post this on anywhere for public use
You shall not sell this for public use
Do not replicate and forward without permission
Do not claim this as yours
Do Not Translate it into your language and claim ownership

While heading to Coumarine City, Ash & Co. decide to stop off in a forest to relax. With everyone relaxing in their own way, Bonnie decides to explore the nearby area with Dedenne. On exploring, she meets up with three kids who call themselves the Lapras Defense Corps due to the fact they are looking after an injured Lapras. As Lapras is nearly healed, it seems rather sad so the kids decide it's time to release it back in the ocean. However, as they go to do so, Team Rocket appears to try to get the Lapras. Without having Pokémon of their own to defend Lapras, will the kids be able to get it back into the wild and hold off Team Rocket?

Full Guide coming Soon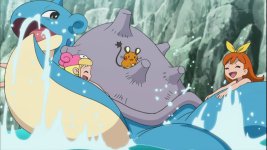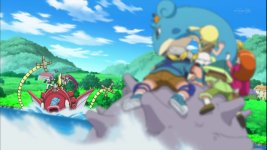 852: Bonnie for the Defense!

852: Mobilise, Lapras Defense Corps! Bonnie Does Her Best!!



Yes


Ash
Clemont
Serena
Bonnie
Jessie
James
Nurse Joy
Hina
Ken
Joe


Ash:
Clemont:
Serena:
Jessie:
James:
Rocket:
Nurse Joy:
Wild:


None of consequence