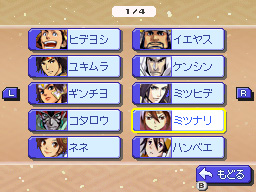 Final Episodes
Like previous games, Pokémon Conquest has a massive post-game segment. After you have finished the narrative and defeated Nobunaga, you open up the special episodes. These episodes provide a new insight into the various Warlords within the game. As well as this, you can collect and befriend new Warlords and Pokémon within each of the episodes.
As it's separate from the narrative, the Pokémon are reset to levels and Links in order to fit the story. However, if you befriended a Warlords in the narrative and his Pokémon evolved, or you had him link with a different Pokémon, if you befriend the Warlords in each of the stories, he will have that same Pokémon for you to use.
Only 8 episodes are unlocked at the beginning with more getting unlocked as and when more are beaten. There are 33 in total, plus several WiFi Only Events.
Episode List
| | | | | |
| --- | --- | --- | --- | --- |
| Episode Name | Warlords | Difficulty | Method of Obtaining | Clear Conditions |
| Happily Ever After. | Hideyoshi | ★★★ | Beginning | Unify the local Nations |
| The Burden of Peace. | Ieyasu | ★★ | Beginning | Collect 100 Pokémon |
| The Way of the Warrior | Yukimura | ★★★★ | Beginning | Unify the local Nations |
| The Joy of Battle | Kenshin | ★★★ | Beginning | Win 5 Battles |
| Pride and Precociousness | Ginchiyo | ★★ | Beginning | Unify Seven Nations |
| Tragic Determination | Mitsuhide | ★★★ | Beginning | Defeat Nobunaga's Army before January 4th (In-Game Time) |
| A Shroud of Darkness | Kotaro | ★★ | Beginning | Unify Eight Nations |
| Not Worth Fighting Over...1 | Mitsunari | ★ | Beginning | Unify Four Nations |
| Teaching Them a Lesson | Nene | ★★★ | Complete "Happily Ever After" | Unify Eight Nations |
| The Reluctant Genius | Hanbee | ★★★ | Complete "Happily Ever After" | Unify Eight Nations |
| The Unparalleled Warrior | Tadakatsu | ★★★ | Complete "The Burden of Peace" | Unify the local Nations |
| A Ninja amongst Ninjas | Hanzo | ★★★ | Complete "The Burden of Peace" | Unify Eight Nations |
| Archenemies | Shingen | ★★★ | Complete "The Way of the Warrior" | Win 5 Battles |
| Time for Battle! | Kunoichi | ★★★ | Complete "The Way of the Warrior" | Unify Eight Nations |
| Land of Love and Righteousness | Kanetsugu | ★★★ | Complete "The Joy of Battle" | Unify the local Nations |
| Love is a Battlefield | Aya | ★★ | Complete "The Joy of Battle" | Unify Seven Nations |
| The Final Gamble/td> | Yoshihiro | ★★★ | Complete "Pride and Precociousness" | Unify the local Nations |
| Blowing in the Wind.. | Muneshige | ★★★ | Complete "Pride and Precociousness" | Unify the local Nations |
| Ransei's Legendary Beauty. | No | ★★ | Complete "Tragic Determination" | Unify Seven Nations |
| All Grown Up | Gracia | ★★★★ | Complete "Tragic Determination" | Unify the local Nations |
| The Rebel | Motochika | ★★★★ | Complete "A Shroud of Darkness" | Defeat Nobunaga's Army before January 4th (In-Game Time) |
| That Which He Holds Dear. | Ujiyasu | ★★★ | Complete "A Shroud of Darkness" | Befriend 40 Warlords |
| Not Worth Fighting Over...2 | Kiyomasa | ★ | Complete "Not Worth Fighting Over...1" | Unify Four Nations |
| The Rose of Ransei. | Oichi | ★★★ | Complete "Not Worth Fighting Over...1" | Unify Seven Nations |
| The Visionary's Quest. | Kanbei | ★★★ | Complete "Happily Ever After" | Befriend 100 Pokémon |
| Grace and Beauty. | Ina | ★★★ | Complete "The Unparalleled Warrior" | Unify Eight Nations |
| PokéMari & Me | Yoshimoto | ★★★ | Complete "Archenemies" | Befriend 40 Warlords |
| The Dragon's Dream. | Masamune | ★★★ | Complete "Blowing in the Wind.." | Unify the local Nations |
| Putting the Books Down. | Motonari | ★★★★ | Complete "Blowing in the Wind.." | Befriend 100 Pokémon |
| This One Goes Out to My Fans. | Magoichi | ★★★★ | Complete "All Grown Up" | Unify the local Nations |
| I want to be the best! | Kai | ★★★★ | Complete "That Which He Holds Dear" | Unify Eight Nations |
| Not Worth Fighting Over...3 | Masanori | ★ | Complete "Not Worth Fighting Over...2" | Unify Four Nations |
| The Road to Conquest. | Nobunaga | ★★★ | Complete Nine Episodes | Unify the local Nations |
| The Two Heroes of Ransei | Hero | ★★★★★ | Complete All Other Episodes | Unify the local Nations |