Diamonds are the main currency within the game. Diamonds are mostly used to purchase other things in the game, but if you lose a match, you can spend 10 Diamonds to continue on as if you hadn't just lost. While a lot can be obtained through gameplay, the primary means to obtain these by purchasing them using real money. The pricing scheme is as follows
| | |
| --- | --- |
| Diamond Amount | Japanese Price |
| 12 Diamonds | 120¥ |
| 54 Diamonds | 480¥ |
| 112 Diamonds | 960¥ |
| 320 Diamonds | 2400¥ |
| 720 Diamonds | 4800¥ |
| 1540 Diamonds | 9600¥ |
There are monthly limits to how much you can spend. For each yen spent, you earn 1 point. You cannot exceed 50,000 points a month if you are aged 20 or over, or 10,000 points a month if you are aged under 20.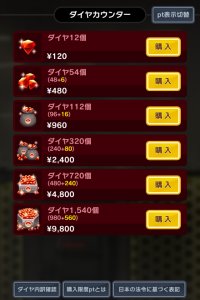 Currency: Diamonds

The Trevo Shop is simply a way for you to get some figures. These figures are obtained at random when you purchase a box. There are two options. For 50 Diamonds, you can buy a Single box which contains 1 Figure and 50 Material. For 100 Diamonds, you can buy a Double Box. This has two figures in it, as well as a plate and 100 material.

The figures you receive are random based on their rarity. The figures are as follows

EX (0.5% Each)
Rare (1.5% Each)
Ultra Common (6% Each)
Charizard
Venusaur
Dialga
Palkia
Mewtwo
Blastoise
Absol
Dratini
Eevee
Meowth
Murkrow
Salamence
Skarmory
Lapras
Wobbuffet
Steelix
Golem
Pikachu
Scyther
Jolteon
Bulbasaur
Psyduck
Chespin
Fennekin
Froakie
Seviper
Charmander
Squirtle
Weezing
Staraptor
Butterfree
Spinarak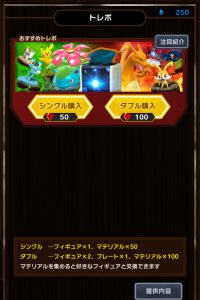 Currency: Material

As you collect material in the game, you have the ability to purchase figures straight out. These can only be obtained after you have encountered them in a match against a computer player while some are unlocked as standard. The higher the rarity of the figures, the more material required to purchase it.
| | |
| --- | --- |
| Rarity | Material Required |
| EX | 4000 |
| R | 1800 |
| UC | 450 |
| C | 250 |