Aurus Island Illumina Spot

Unlock Requirement: Light all the flowers inside the ruins

Requirements for Research Level
Level 2: 1 XP
Level MAX: 80,000 XP

Xerneas, the Illumina Pokémon of Aurus Island, can be found here, just past the collapsed entrance of the Ruins of Remembrance.
Complete Research Map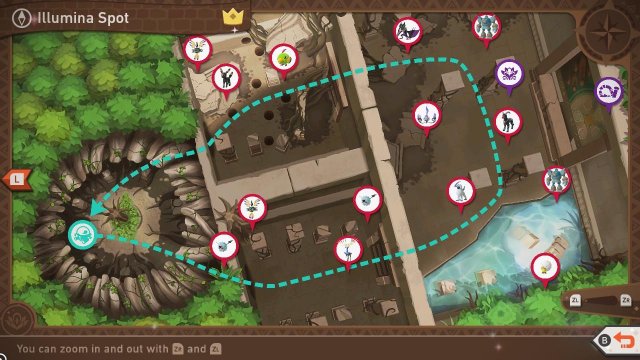 List of Pokémon Available in Ruins of Remembrance at Aurus Island Illumina Spot
Xerneas

Xerneas is the final Illumina Pokémon, the mysterious sixth hidden one on the small island of Aurus Island. Having worn itself out 2,000 years prior protecting the region, it lay dormant until you awoke the other Illumina Pokémon. As such, it chooses to test you. It flies around in an energy orb requiring you to throw Illumina Orbs at it before it takes its true form

On subsequent visits, several Pokémon will inhabit the ruins alongside Xerneas. They won't attack but will be part of many photoesque images. The 4 star picture has it using Geomancy if stopped between the two Houndoom if they're awake and howling

Minimum Research Level: Research Level 1

Sigilyph

Sigilyph can be seen relaxing in the gaps between the first path towards Xerneas. Photograph it and it flies away. More can be seen sleeping in the distance in other areas
Minimum Research Level: Research Level 2

Woobat

Woobat is first seen flying out of the first room where you find Xerneas as you enter. Another set can be found flying by the walls
Minimum Research Level: Research Level 2

Eldegoss

Eldegoss can be found floating in the corner of the second room where Xerneas jumps in and out of the water. One is also sitting by the water but, when Xerneas spawns and sets off its light, it gets knocked off and starts floating around
Minimum Research Level: Research Level 2

Chandelure

Chandelure can be found in the corner to the left of the room after the room with water
Minimum Research Level: Research Level 2

Houndoom

Houndoom can be found in multiple parts of the stage, typically sleeping next to Crystablooms. If you wake it up, you can lure it to make Xerneas use Geomancy. If you make it Howl with scan, you will get its 4 star picture
Minimum Research Level: Research Level 2

Absol

If photos are timed right, Absol will come in within the part of the stage with the two sleeping Houndoom
Minimum Research Level: Research Level 2

Noivern

Noivern can be found flying between various stages of the level with one sitting on a branch leaving it open for a decent photograph if Illumina Orbs are used
Minimum Research Level: Research Level 2

Natu

Natu can be found sleeping on various rocks or next to Xerneas and Umbreon
Minimum Research Level: Research Level 2

Golurk

Golurk can be found within the Illumina Spot if you throw Fluffruit at Sigilyph, it will move to the next chamber. Throw another and it will summon Golurk who will fly in for a 4 star photo
Minimum Research Level: Research Level 2
Missions in Stage
Do note, you need to have received the Research Mission before you can complete it.
Ruins Locations
Ancient Ruins

Professor Mirror's Analysis:
This mural depicts a scene from the legends. It shows the six Illumina Pokémon coming together to stop the meteorite. It seems to be the same as the mural in Outaway Cave.

Details
These ruins can be found in the main chamber and provide a mural of what happened 2,000 years ago. You can get Xerneas to use Geomancy in front of it for high points
Crystabloom Locations
That's an Aurus Island crystabloom. They contain traces of each type of energy we've detected around Lental. We believe they may be the progenitor of all other species of crystabloom.
Crystabloom 1

You can find this Crystabloom in the main chamber next to a sleeping Houndoom. Activate it to help activate the Houndoom and Xerneas to get Xerneas to use Geomancy