Park (Day)

Unlock Requirement:

Requirements for Research Level
Level 2: 40,000 XP
Level 3: 70,000 XP
Level MAX: 90,000 XP

This course runs along a large lake and through a field of colorful flowers. Pokémon are a regular sight here, which makes it the ideal location for young, up-and- coming photographers.

Note:Some of the Pokémon that appear in the Research Map towards the end of the stage only appear in the Secret Side Path stage when it reintersects with this one
Alternate Paths
Bidoof Dam

Unlock Level: Level 3

After you have completed Park (Night) on Level 2 and reach Level 3, this path will open up, allowing you to move across the dam that Bidoof was building

Secret Side Path

Unlock Level: Level 3

After you have completed most of the game, you will gain access to the Secret Side Path. When you approach the Bidoof Dam, you will be able to find another path by a tree to the left. This path will take you through a new course, the Secret Side Path where you use experimental tech to shrink down. Secret Side Path stages all end in their timed park equivalent and add to the research maps for the Park
Complete Research Map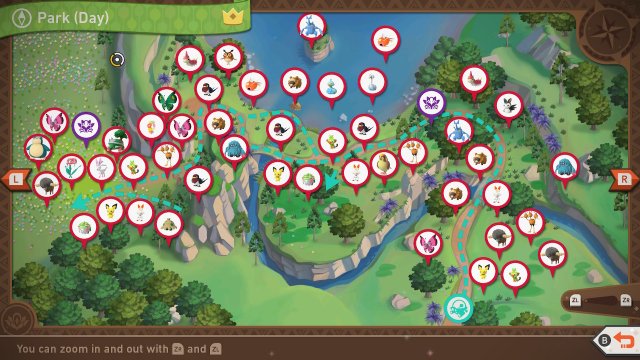 List of Pokémon Available in Florio Nature Park at Park (Day)
Dodrio

Dodrio can be found at various points throughout the stage, often running and jumping. It can be interacted with using Fluffruit and Illumina Orbs for top quality images

If you go in through the Side Path (Day) stage, Dodrio will appear at the end running into the Flower Field. it will then see Torterra and, after its fight, walk away slowly

Minimum Research Level: Research Level 1

Vivillon (Meadow Pattern)

A flutter of Vivillon in its Meadow Pattenr can be found at the very start of the stage flying around, landing on trees
Minimum Research Level: Research Level 1

Bouffalant

Bouffalant can be seen at the start of the stage and they'll get progressively closer as the Research Level increases. They tend to buck for a photo opportunity if hit with Illumina Orbs, In Research Level 3, you'll be able to get them to fight using the melody. At the end of the stage, there will also be some in the flower area, some even with flowers in their hair.
Minimum Research Level: Research Level 1

Pichu

Pichu appears multiple times through the stage, with its interactions increasing as the Research Level increased. It will start off dancing but can also be found later on. If you photograph it through all the areas it will get a special pose with a flower crown and will finally be with Grookey and Scorbunny at the end
Minimum Research Level: Research Level 1

Grookey

Grookey appears multiple times through the stage, with its interactions increasing as the Research Level increased. It will start off dancing but can also be found later on. If you photograph it through all the areas it will get a special pose with a flower crown and will finally be with Pichu and Scorbunny at the end
Minimum Research Level: Research Level 1

Emolga

Emolga can be seen flying from the branches half way through the level. As the Research Level increases, more Emolga will appear. You can get higher ranks by feeding it.
Minimum Research Level: Research Level 1

Bidoof

Bidoof can be found all around the stage. In Research Levels 1 & 2, it can be seen helping build a dam in the middle of the stage, which gets completed in the Level 3. From there, you can find Bidoof swimming about and even one inside the new den by the dam
Minimum Research Level: Research Level 1

Wurmple

Wurmple can be found throughout the forest area of the park. Typically sleeping or moving around, you can find them fighting with Taillow and even climbing a tree. If you use Scan when climbing the tree it will wobble for a 3 star photo. If you use an Illumina Orb on it when it's fighting with Taillow, you can get a 4 star photo
Minimum Research Level: Research Level 1

Taillow

Taillow are very skittish in the stage, often flying off at a moments notice when you come near. In later research levels, you'll be able to get closer to them, lure a fight with a Wurmple by taking a photo of them as they fly off, with their 4 star photo if you have Wurmple use Poison Gas and two will sit on the signboard towards the flower field and will dance with the melody
Minimum Research Level: Research Level 1

Swanna

Swanna can be found by the lake in the middle of the stage. It will be flying around in flocks as well as swimming in the lake
Minimum Research Level: Research Level 1

Magikarp

Magikarp can be found in the water in the middle of the stage. It will flop up if hit by a Fluffruit and some can even appear by throwing Fluffruit in the water. If you can lure Pidgeot over by hitting it with an apple, when you next place an apple by Magikarp, you'll be able to lure Pidgeot to take it away for an idea photo opportunity
Minimum Research Level: Research Level 1

Florges

Florges can be found in the flower area at the end of the stage. It will interact with the other Pokémon but can be triggered to unleashing an attack with the nearby Crystablooms

The form the Florges takes is random
Minimum Research Level: Research Level 1

Comfey

Comfey is found in the Flower Fields and is a tricky Pokémon to capture on camera for other things. It will start dancing if the Crystablooms will activate near it
Minimum Research Level: Research Level 1

Ducklett

Ducklett can be seen in the l;ake area alongside Swanna. In lower Research Levels, it'll just be seen in the water and can be interacted with Fluffruit and Illumina Orbs. In Research Level 3, you'll be able to see a Ducklett Flying through the area
Minimum Research Level: Research Level 2

Tangrowth

Tangrowth will appear at the crossroads beyond the bridge at the lake. It has a special interaction if you throw a Fluffruit up on top of a nearby cliff where it'll extend its arms to grab it
Minimum Research Level: Research Level 2

Hoothoot

Hoothoot can be found in a tree hollow during the day. reach, it's impossible to get it out of the tree.
Minimum Research Level: Research Level 1

Scorbunny

Scorbunny can be found in Research Level 3 of the stage. It will appear through various parts of the stage starting with by the Bouffalant herd. As you photograph it, it will appear in more of the stage before finally ending up in the Flower Field alongside Pichu and Grookey.
Minimum Research Level: Research Level 3

Pidgeot

Pidgeot will appear part way through the level near the dam. It will quickly fly up onto the hillside to the left. If it is then hit by a Fluffruit, it will fly off to on top of the tree. Then, if a Fluffruit is put next to Magikarp, it will fly into shot and grab the Magikarp instead of the Fluffruit
Minimum Research Level: Research Level 3

Heracross

Heracross can be found in Research Level 3 at the forest part of the stage. It will be stuck to a tree eating sap but can be knocked off by use of multiple Fluffruit. It will also be able to start a fight with a nearby Wurmple. Later on, if you use an Illumina Orb on Heracross but don't knock it down, you will find a second Heracross on the island in the middle of the lake which wil lthen fly off, and you will find another Heracross on the other side of the dam who also flies away
Minimum Research Level: Research Level 3

Vivillon (Garden Pattern)

Vivillon Garden Pattern is a very rare at the end of the stage. When you enter the flower patch turn around and you'll see the Garden Pattern Vivillon flying into the area
Minimum Research Level: Research Level 3

Shaymin

Shaymin can be found towards the end sleeping in the flowers, awakened by a Crystablooms. reach in Level 3, if you manage to bring Pichu, Scorbunny and Grookey to the end, you will be able to get a special interaction when they all gather by the final Crystablooms.
Minimum Research Level: Research Level 2

Shroomish

This Pokémon is only available through Side Path (Day) but also counts towards the Park (Day) Score and Research Map

After going through Side Path (Day), Shroomish will be to the left of the exit and will be available for photos of it feeding

Minimum Research Level: Research Level 1

Sylveon

This Pokémon is only available through Side Path (Day) but also counts towards the Park (Day) Score and Research Map

After going through Side Path (Day), you will find Sylveon sleeping next to a Crystabloom in the flower fields

Minimum Research Level: Research Level 1

Snorlax

This Pokémon is only available through Side Path (Day) but also counts towards the Park (Day) Score and Research Map

After going through Side Path (Day), if you woke Snorlax up during your travel, Snorlax will appear at the very end of the stage. If you throw Illumina Orbs at it, it will run towards you for a 4 star photo. If you throw a Fluffruit to it afterwards, you can get a 3 star photo of it eating it

Minimum Research Level: Research Level 1
Missions in Stage
Do note, you need to have received the Research Mission before you can complete it.
Mission
Unlock
Hide-and-Seek in the Flowers
Get a picture of Pichu hiding in the flowers at the end of the stage in Level 3
One-Hand Freeze
Get a picture of Grookey in the flowerfield doing a handstand on one arm. This is done by waking it up in the middle area. It will do its handstand to show off for you either there or in the flower fields and playing Melody
Three Friends among Flowers
Get a picture of Scorbunny, Grookey or Pichu laughing besides a Crystabloom at the end of the stage
Head-to-Head Competition
Get a picture of two Bouffalant fighting in Level 3. It can be activated by the music box
Shockingly Well-Done
Get a picture of Emolga using its electricity on a fruit by throwing a Fluffruit towards the scorched fruit
What's Up with Wurmple
Lure Taillow to Wurmple by taking a photo of it midflight, then get a picture of Wurmple fighting with Taillow after hitting Wurmple with an Illumina Orb to get it to use Poison Gas
Swanna-be
Get a picture of Ducklett flying in Level 3
Dam, Sweet Dam
Get a picture of Bidoof inside the dam by throwing a Fluffruit in
Off to a Flying Startle
Get a picture of Taillow as it gets startled and starts to fly away
Flopping by the Water
Get a picture of Magikarp being taken by Pidgeot by hitting the Pidgeot with a Fluffruit and luring it to Magikarp's spot
Don't Be Scared
Get a picture of Comfey close up to you and give it a Fluffruit
Livening Up the Flowers
Get a picture of Florges using its powers by activating a Crystabloom near it
Myth of the Nature Park
Get a picture of Shaymin awake in the flowers after luring it and Pichu to the Crystablooms and activating the Crystabloom with Shaymin next to it
Crystabloom Locations
That's a Florio Island crystabloom. Our institute's logo was designed after this flower! We've only recently learned what makes them glow—there's still so much to learn about them.
Crystabloom 1

This Crystabloom is found just as you head towards the lake area to the left

Crystabloom 2

This Crystabloom is found in the right of the flower area and will start the dance of the Comfey

Crystabloom 3

This Crystabloom is found in the right of the flower area. After Shaymin is available, it will alert Shaymin and he will run around to the left

Crystabloom 4

This Crystabloom is found in the left of the flower area. After Shaymin is available, it will feature Pichu, Grookey, Scorbunny and Shaymin if they have all been led here for a top picture