Park (Night)

Unlock Requirement: Complete two excursions to Park (Day)

Requirements for Research Level
Level 2: 50,000 XP
Level MAX: 110,000 XP

Underneath the light of the moon, the Pokémon of the nature park can be observed behaving differently than during the day.

Note:Some of the Pokémon that appear in the Research Map towards the end of the stage only appear in the Secret Side Path stage when it reintersects with this one
Complete Research Map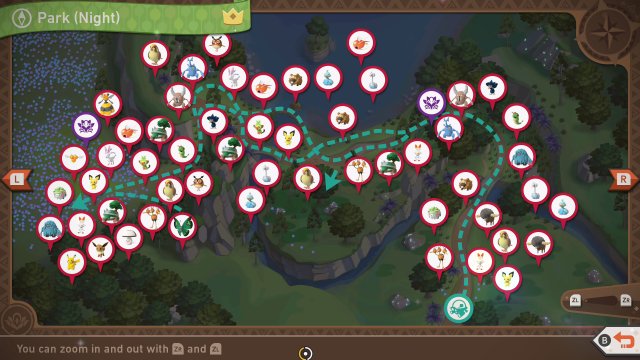 List of Pokémon Available in Florio Nature Park at Park (Night)
Scorbunny

Scorbunny appears multiple times through the stage. It starts off at the start running through the Bouffalant, then appears by the Torterra and again in the flowers at the end
In Research Level 2, if you take photos of Scorbunny throughout, including at the start when it's showing off, then it'll appear on a Torterra at the end of the stage
Minimum Research Level: Research Level 1

Bidoof

Bidoof can be found throughout the stage. In Level 1 they are found near the dam as well as sleeping and walking around nearby. reach, once the Dam is complete in Level 2, their interactions become more widespread. Two Bidoof will be at the very start of the stage and will watch Scorbunny do some kicks with Pichu, Grookey and Shaymin. You'll see a Bidoof sleeping by Bouffalant, as well as a couple walking around the park. At the lake, you will also see a trio of Bidoof swimming around the lake and a Bidoof sleeping inside the Dam den. If you hit it with a Fluffruit and an Illumina Orb, it will come up for a great photo opportunity
Minimum Research Level: Research Level 1

Dodrio

Dordrio can be found throughout the Park at night. It will jump up in the air if you throw an Illumina Orb at it and will flex its moves in the Flower Fields
Minimum Research Level: Research Level 1

Bouffalant

The herd of Bouffalant remain in the plains at the start of the stage. reach as it is night, they are asleep so lack photo opportunities but can be awoken with Fluffruit and Illumina Orbs
Minimum Research Level: Research Level 1

Tangrowth

Tangrowth can be found early on in the stage asleep. reach, if you hit it with Illumina Orbs, it will spring up and jump to the nearby cliffside and follow you through the part of the course.

If you go through the Side Path (Night) and wake up Tangrowth by getting the Magikarp, Tangrowth will appear in the flower fields

Minimum Research Level: Research Level 1

Caterpie

Caterpie can be found in a variety of places in the stage. It can be seen sleeping on the trees and also on the ground in the forest. They will be scared by the Murkrow as they fly by and disappear. reach, a trio can be found on the park sign towards the flowerfield, lured out by music
Minimum Research Level: Research Level 1

Murkrow

A flock of Murkrow can be found around the forest area. A couple will be on the ground while the rest will be flying around and will startle the Caterpie. A couple will also be found as you reach the end of the Bidoof Dam
Minimum Research Level: Research Level 1

Combee

A group of Combee can be found in the Flower patch. If you hit them with Illumina Orbs, they will dance. They can lure out Vespiquen for some good photo opportunities when you hit the Crystabloomss
Minimum Research Level: Research Level 1

Ducklett

The first Ducklett encounter is found as you go over the first bridge in the start of the level. A raft of Ducklett are following a Swanna and will start cheering if hit with an Illumina Orb. Ducklett can be found in the lake just sleeping. If you awaken the Swanna flock, they will wake up and leave
Minimum Research Level: Research Level 1

Swanna

The first Swanna encounter is found as you go over the first bridge in the start of the level. Swanna will be leading 3 Ducklett and can be activated for a photo opportunity with Illumina Orbs.

Swanna can also be found sleeping in the lake, but there are two Illumina enfused Swanna flying around that will eventually land in the water and fall asleep. If you play Melody before they start to go to sleep, they will fly off and wake the other Swanna who do the same for a 4 star photo

Minimum Research Level: Research Level 1

Torterra

Torterra can be found around the lakeside and flower area of the stage sleeping. If you hit them with a Fluffruit, they will awaken for a good image. In the Flower Fields, if you took pictures of Scorbunny through the stage, you'll find a Torterra with flowers on moving. It has Scorbunny asleep on top
Minimum Research Level: Research Level 1

Pidgeot

Pidgeot is rather timid, but if you throw a Fluffruit at it at the start of the stage in Level 2, it will follow you through the stage and give its gratitude at the end and provide a 4 star photo.

Like in the day time, if you throw a Fluffruit at Pidgeot at the start and in the middle of the stage, hit Magikarp after the dam with Illumina Orbs and Pidgeot will swing in to grab it for a 4 star photo

Minimum Research Level: Research Level 1

Pichu

Pichu can be found at the start of the level watching Scorbunny display its kicks in Level 2. In Level 1, you'll see a Pichu and Grookey sleeping on top of a Torterra while in Level 2 you'll see them sleeping next to the Torterra with a Sylveon. If you awaken it with scan, it will then move into the flower field for a fantastic 4 star photo with Scorbunny, Shaymin, Sylveon and Grookey
Minimum Research Level: Research Level 1

Grookey

In Level 1, you'll see a Pichu and Grookey sleeping on top of a Torterra while in Level 2 you'll see them sleeping next to the Torterra with a Sylveon. If you awaken it with scan, it will then move into the flower field for a fantastic 4 star photo with Scorbunny, Shaymin, Sylveon and Pichu
Minimum Research Level: Research Level 1

Hoothoot

Hoothoot can be found on various trees around the latter half of the stage. They will react to the melody as well as being hit by Fluffruit and Illumina Orbs
Minimum Research Level: Research Level 1

Pinsir

Pinsir can be found easily at the start of the stage where there's a mound of dirt. If you hit the Crystablooms, Pinsir will jump out. Another will appear later on in the stage just walking but, if you awoke Heracross, they will fight but the fight will also stop if you awaken Sylveon.
Minimum Research Level: Research Level 1

Magikarp

Magikarp is spotted jumping up when you throw Fluffruit into the water. Another can also be found sleeping by the tree in the other side of the pond. Like in the day time, if you throw a Fluffruit at Pidgeot at the start and in the middle of the stage, hit Magikarp after the dam with Illumina Orbs and Pidgeot will swing in to grab it for a 4 star photo

If you go through the Side Path (Night) and get Magikarp out of Pidgeot's nest, and then activate the Crystabloom, Magikarp will appear in the flower fields

Minimum Research Level: Research Level 1

Shaymin

Shaymin can be found in a couple of places in the stage. In Level 2, it will appear at the start of the stage with Pichu and Bidoof watching Scorbunny's display of kicks. Following that, in the middle area you will spot it asleep.

If you used an Illumina Orb on Scorbunny at the start, then wake Grookey and Pichu up by the Torterra after the dam, they will then be seen at the end of the stage with Shaymin sleeping alongside them for a 3 star photo

Minimum Research Level: Research Level 2

Sylveon

Sylveon can be found sleeping next to Torterra after you travel along the Bidoof dam. It can be woken up with an Illumina Orb where it will run away. If you've managed to activate Heracross, it will stop the fight between Pinsir and Heracross for a top quality picture. it can later be found sleeping alongside the Crystabloom with Scorbunny, Grookey, Shaymin and Pichu
Minimum Research Level: Research Level 2

Vespiquen

Vespiquen can be found in the final area of the stage with the flower beds. As Combee is dancing around in the area, throw an Illumina Orb at the first Crystablooms and a combeee will fly off to fetch Vespiquen to bring it to the area. If you hit the other Crystablooms when Vespiquen is there, it and the other Combee will dance
Minimum Research Level: Research Level 2

Heracross

Heracross can be found fairly early on in the stage but requires some work to get. To get it to appear, you need to use an Illumina Orb on the first Crystablooms and then use scan. This will cause Heracross to fall out of the tree. It'll then appear latr on in the stage where it will fight with Pinsir, which will stop the fight
Minimum Research Level: Research Level 2

Foongus

This Pokémon is only available through Side Path (Night) but also counts towards the Park (Night) Score and Research Map

After going through Side Path (Night), Foongus will be to the left of the exit and will be available for photos of it feeding for a 3 star photo

Minimum Research Level: Research Level 1

Pikachu

This Pokémon is only available through Side Path (Night) but also counts towards the Park (Night) Score and Research Map

After going through Side Path (Night), you will find Pikachu sleeping next to a Crystabloom for a good quality photo

Minimum Research Level: Research Level 1

Eevee

This Pokémon is only available through Side Path (Night) but also counts towards the Park (Night) Score and Research Map

After going through Side Path (Night), you will find Eevee sleeping next to a Crystabloom for a good quality photo

Minimum Research Level: Research Level 1
Missions in Stage
Do note, you need to have received the Research Mission before you can complete it.
Mission
Unlock
Hard-Won Happiness
Get a picture of Pidgeot towards the end of the stage by giving it Fluffruit at the start and the middle area, throwing an Illumina Orb at the Dodrio so it runs away, and then photographing it when it arrives at the end of the stage
Sudden Movement
Get a picture of Tangrowth moving by extending its arms on its way to the cliff
Munching Murkrow
Get a picture of Murkrow eating a Fluffruit
Where's That Pokemon
Get a picture of the Caterpie behind the sign before the field. Activate them using the music box
Where It Snacks and Snoozes
Get a picture of the Heracross falling out of the tree with Fluffruit nearby. This is done by geting Pinsir up by lighting the Crystabloom and then hitting scan multiple times so Heracross falls out of the tree
Best Frenemies
Get a picture of Pinsir being friendly with Heracross by luring Sylveon out to interrupt them from fighting by waking it up from next to Torterra using an Illumina Orb and then playing Melody when the Pinsir and Heracross are fighting. Make sure Pinsir or Heracross is the focus and all three are in shot
Who Needs Wings
Get a picture of Dodrio jumping by throwing an Illumina Orb at it
Art in Flight
Get a picture of a flock of Swanna taking flight by waking them up using the Melody when going over the Dam
A Terrific Yawn
Get a picture of Torterra yawning by waking it up with Fluffruit
Hoothoot's Hidden Foot
Get a picture of Hoothoot's second foot by throwing a Fluffruit at it
Dancing with the Queen
Get a picture of Combee and Vespiquen dancing by activating the Crystabloom
For Whose Sake
Get a picture of Vespiquen by luring it out with the Crystabloom
Asleep on a Calm Night
Get a picture of Sylveon sleeping next to Torterra in Level 2
Crystabloom Locations
That's a Florio Island crystabloom. Our institute's logo was designed after this flower! We've only recently learned what makes them glow—there's still so much to learn about them.
Crystabloom 1

This Crystabloom is found just as you head towards the lake area to the left

Crystabloom 2

This Crystabloom is found in the right of the flower area and will alert Combee to your presence and bring in Vespiquen

Crystabloom 3

This Crystabloom is found in the right of the flower area and when activated

Crystabloom 4

This Crystabloom is found in the left of the flower area. If you have woken up Sylveon, Pichu and Grookey, they will be found here with Shaymin, Torterra and Scorbunny sleeping