30-06-2015 07:01 BST / 02:01 EDT by Serebii
This update will be amended throughout the day so be sure to check back. If you have any ideas for the site, be sure to send them in
With the generation continuing and Nationals coming up globally, and the Chatroom has been rife with discussion while the WiFi Chatroom has been a place for battles, trades and Friend Safari hunting, so be sure to visit them. Our Forums have also had these discussion and are a bustling trade and competitive section for the games. Be sure to like our FaceBook Page.
Last Update: 07:15 BST
Edit @ 07:06: Dance? Pokémon Band! Live | Edit @ 07:15: Pokémon Shuffle Mobile Beta details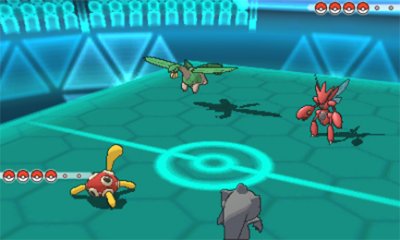 In The Games Department
Pokémon X, Y, Omega Ruby & Alpha Sapphire - Special Battle Season 9
The Special Battle rules for Season 11 have been revealed. Season 11 will run from July 14th 2015 to September 15th 2015 and runs on both X & Y and Omega Ruby & Alpha Sapphire, each following the standard league rules each game sets (Gen VI native only in ORAS and allowed to use transferred Pokémon in XY). This ruleset is made to not allow the 12 most popular Pokémon in Seasons 7 through 10The base rules for this season are as follows:
Battle type: Double Battle
Pokémon Restrictions: National Pokédex except Mewtwo, Mew, Lugia, Ho-Oh, Celebi, Kyogre, Groudon, Rayquaza, Jirachi, Deoxys, Dialga, Palkia, Giratina, Phione, Manaphy, Darkrai, Shaymin, Arceus, Victini, Reshiram, Zekrom, Kyurem, Keldeo, Meloetta, Genesect, Xerneas, Yveltal, Zygarde, Diancie and Hoopa
Can also not use the following Pokémon: Charizard, Gengar, Kangaskhan, Tyranitar, Gardevoir, Mawile, Salamence, Garchomp, Rotom, Heatran, Cresselia, Amoonguss, Bisharp, Terrakion, Thundurus, Landorus, Greninja, Talonflame, Aegislash, and Sylveon.
The other standard rules apply, including reduced to Level 50 if above that, and you choose 4 Pokémon out of your 6, and you cannot have two Pokémon holding the same hold item.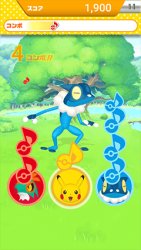 In The Games Department
Pokémon App
Following its reveal on Friday, The Pokémon Company has released the first trailer for the upcoming rhythm game, Dance? Pokémon Band!, due for release on iOS and Android. With this, it also came with release details. The app is now available on iOS and Android platforms in Japan. It can be downloaded until September 30th 2015 and played until October 29th 2015. After that, the game will no longer be playable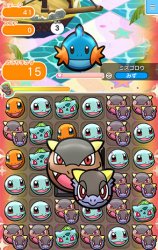 In The Games Department
Pokémon Shuffle Mobile
The Beta for Pokémon Shuffle Mobile is now currently live in Japan, and has come with several interesting tidbits. As opposed to being a directly straight port, there are a few differences. First, the Beta only goes up to Stage 30. Next, for the Special Stages, it currently has the Mew and Rotom event stages running, as well as the Meowth one. However, the stages can be locked if you have already played a one-per-day event and you may have to spend Jewels to unlock them. In addition to that, the Mew stage costs 2 hearts to play rather than the usual 1. Finally, there's a new Present Box option which shows you the items you receive as gifts when you check in. We'll bring more as it comes, including whether these details are just for the Beta or if there will be less parity between the 3DS and Mobile versions.