Celestial - Ed Sheeran
Release Date:

September 29th 2022
Length: 4:22
Distributor: Warner Music Group

This song was a special song released as a continual celebration of Pokémon through music. It was made available as Ed Sheeran has routinely showed his love for the Pokémon franchise.

This song was then included within the Pokémon games, Pokémon Scarlet & Violet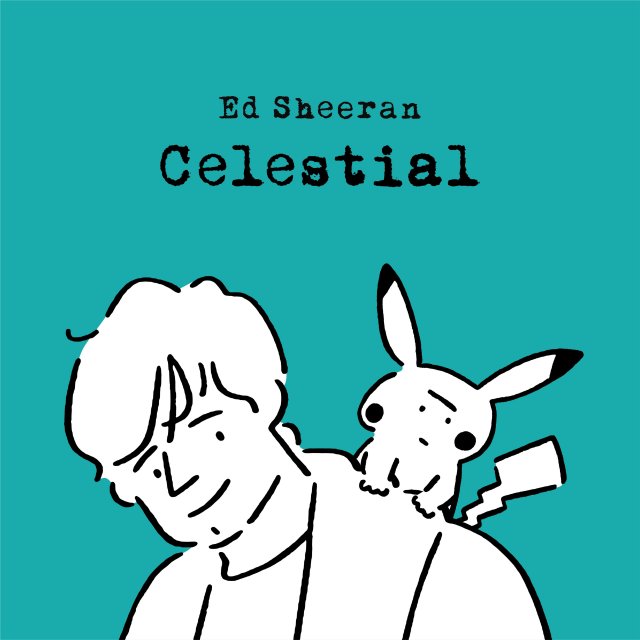 Music Video
The music video showcases a day in the life of Ed Sheeran as he sometimes shifts from the real world to a Pokémon world as drawn by the artist Yu Nagaba helping him go about his day. It eventually ends with a shift to Ed Sheeran being implanted into the anime world to stop a fight between Mewtwo and Mew.
Lyrics
Credits
Produced by Genki Kawamura
Director: Yuichi Kodama
Character Design: Yu Nagaba
CG Animation Production: MORIE Inc.
VFX Production: Khaki
Production: AOI Pro.
Animation Production: ENISHIYA inc.
Artists
Ed Sheeran
Ed Sheeran has long been a Pokémon fan, starting his journey with Pokémon on the Game Boy, frequently returning to it and taking his GameBoy on tour with him. He joined this project when he visited Japan and met with The Pokémon Company staff where he joked about writing a song for them
In 2022, he also released a special message for players at the Pokémon 2022 World Championships