OK. To Avoid the current hassles there is this disclaimer for those Who want to use it without permission:
You shall not post this on anywhere for public use
You shall not sell this for public use
Do not replicate and forward without permission
Do not claim this as yours
Do Not Translate it into your language and claim ownership

Ash has made a decision to return to Kanto with a new goal of travelling more of the world to face stronger trainers. However, he has been struggling to tell everyone at the Pokémon school, but as he is trying to work out how to do it, Solgaleo appears in front of him. In addition to that, Team Rocket have received new orders to return to Kanto and Lillie & Gladion decide to go searching for their father. It is time to say goodbye.

Full Guide coming Soon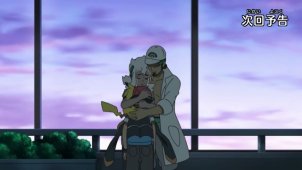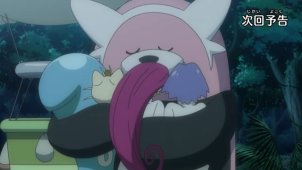 1089: TBC!

1089: Thank You, Alola! Respective Departures!!



Yes


Ash
Lillie
Mallow
Lana
Sophocles
Kiawe
Professor Kukui
Gladion
Lusamine
Professor Burnet
Giovanni
Matori
Abe
Faba
Wicke
Molayne
Lana's Father
Harper
Sarah
Lana's Mother
Ulu
Hau
Hala
Nanu
Guzma
Plumeria
Hobbs
Tupp
Zip
Rapp


Ash:
Lillie:
Beoram:
Mallow:
Lana:
Sophocles:
Kiawe:
Samson Oak:
Gladion:
Professor Burnet:
Jessie:
James:
Rocket:
Giovanni:
Matori:
Ulu:
Lusamine:
Hau:
Nanu:
Guzma:
Plumeria:
Tupp:
Zip:
Rapp:
Team Skull Grunts:
PokeRide:
Special/Other Trainers:
Wild:


Ash & Team Rocket returns to Kanto
Ash leaves Rowlet, Incineroar, Lycanroc & Melmetal with Professor Kukui
Jessie leaves Mimikyu with Bewear
James leaves Mareanie with Bewear
Sophocles heads to Hoenn
Lana heads to hunt down a Manaphy
Lillie, Gladion & Lusamine leave to find Mohn
Mallow's Shaymin changes to Sky Forme and leaves
Professor Burnet shows that she is pregnant