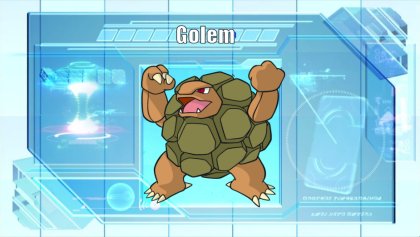 Golem, The Megaton Pokémon. When Golem grow old, they stop shedding their shells. Those that have lived a long, long time have shells green with moss. It detonates its own body. The power from that explosion can propel it up steep mountain paths with amazing speed. Once a year, this Pokémon molts, and its shed shell returns to the soil. This process creates enriched soil, so farmers collect the shells. Its body can survive dynamite blasts without a single scratch, but it hates rain and humidity.
Overview
A titan in RBY, Golem has fallen far from its heyday. Low Speed and Special Defense and quad weakness to two common special types, Golem still struggles in the lower tiers to set itself apart from its other RBY competition, Rhydon, who now has access to an Eviolite. Golem just hasn't held up very well with the gradual powercreep of the generations and it hasn't gained many unique tools to try and set itself apart from the competition. It even has to compete with its new Alolan variant which boasts a more unique typing and abilities, so the classic Golem has way too much to compete with these days.
Positives
Bulky - Golem has great defense, and with its Rock typing, it can wall a lot of the Fire and Normal threats in lower tiers as well as take an Earthquake better than its Alolan form. This makes Golem a good Stealth Rock setter for slower teams that need a sturdy physical pivot.
Offensive Coverage - Rock/Ground isn't the most ideal typing for a slow Pokemon, but it's a fantastic combination for an offensive Pokemon. The combination of Earthquake and Stone Edge give Golem some fantastic offensive prowess despite a somewhat limited movepool.

Negatives
Typing - With quad weakness to both Water and Grass, which often come from the Special spectrum, Golem can struggle to find ways in and handle some threats depending on coverage moves. A prime example is Typhlosion which gets walled by Golem unless it has HP Grass. This limits Golem's utility, again especially compared to Alolan Golem.
Poor Special Defense - Despite great physical bulk, Golem's Special Defense lets it down a lot. While it would normally have an easy time taking on most Fire-type foes for example, even strong Fire Blasts can wear down on it despite the Fire resistance.
Abilities
Rock Head - Prevents recoil - If Golem had access to Head Smash, this would be amazing but with only Double-Edge to abuse this, it's the worst ability for Golem.
Sturdy - Protects the Pokemon from One Hit KO attacks - Overall the best ability as Golem gets OHKOed pretty easily with its weakness to Grass- and Water-type moves, on top of its low Special Defense, so the free Focus Sash is very helpful. The immunity to OHKO moves is also nice but not often relevant.
Sand Veil - Raises Evasion by 1 stage in Sand - If Golem was faster or had better typing this would be a stellar ability, but as it stands it's a subpar choice since it lacks the offensive pressure to abuse it effectively.
Movesets
Offensive Attacker
-Stealth Rock
-Rock Blast / Stone Edge
-Earthquake
-Sucker Punch
Item Attached: Weakness Policy
Ability: Sturdy
EVs and Nature:
252 Atk / 4 Def / 252 Spe
Adamant Nature
Stealth Rock is the best move of the set thanks to Sturdy, giving your team some momentum off a forced switch, making it hard for high powered Fire- and Flying-type threats to get back in. Stone Edge is the Rock STAB of the set, hitting Flying threats hard. However, Rock Blast is a more accurate option to get through Substitute or Sturdy, and can still hit as hard as Stone Edge if you're lucky. These Rock-type moves combo well with Golem's second STAB, Earthquake, creating the Quake Edge combo, hitting many threats for at least neutral damage. Sucker Punch rounds out the set giving Golem a way around its low Speed, as well as a way pick off weakened threats.
Weakness Policy is a nice item as Golem isn't going to be OHKOed thanks to Sturdy, and its many weaknesses make it easier to set it off. Other options are Rindo or Passho Berry to let Golem tank a single super-effective hit and fish for a KO back, though these have awkward synergy with Sturdy. Golem may be slow but investing in its Speed is recommended to avoid some slow Taunt users when trying to get Stealth Rock up, and with the reliance on Sturdy it doesn't gain much from defensive investment.
Offensive Pivot
-Stone Edge
-Earthquake
-Sucker Punch
-Fire Punch / Explosion
Item Attached: Assault Vest
Ability: Sturdy
EVs and Nature:
252 HP / 252 Atk / 4 SpD
Adamant Nature
Assault Vest Golem is a fun idea to allow Golem to pivot more easily into special attackers. Stone Edge and Earthquake make the Quake Edge combo and both get STAB boost, there's really no reason not to run both moves. Sucker Punch is nice again to pick up those 2HKOes as well as revenge kill faster threats and get a last-second chip hit in. Last slot is open to Fire Punch to surprise some Grass threats more reliably than Stone Edge and also snipe Ferroseed or Ferrothorn. However, Explosion is also a viable option to blow something up when in a pinch. It's not as good as it used to be but it's still as strong of an option when you need it.
Other Options & Partners
Choice Band - A Choice Band is an option but with Golem's low speed and there being other options such as Rhydon, it is a sub par option.
Z-Crystals - If you're really looking for some extra punch, a Rockium Z or a Groundium Z can give Golem a one-time nuke if you can't fit a Z-Crystal anywhere else. Golem is not an ideal choice for a Z-Move user though.

Exeggutor - With its ability to pivot into Water- and Grass-type threats and beat most of them 1v1, Exeggutor is a strong option. The support of Sunny Day can allow Golem can potentially take a hit from Water-type moves as well, especially with Assault Vest.
Checks and Counters
Qwilfish - With Intimidate and physical bulk, Qwilfish can tank some of Golem's hits, even though Earthquake still hurts. Qwilfish can also set up hazards that can ruin its Sturdy niche, or fish for a burn with Scald outright and remove Golem from the game.
Floatzel - High offensive stats, priority, and good pressure make Floatzel a powerful option. However, Floatzel can be KOed easily due to its low defenses, making it better at revenge killing than countering.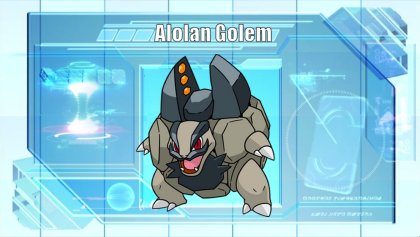 Alolan Golem, The Megaton Pokémon. It fires rocks charged with electricity. Even if the rock isn't fired that accurately, just grazing an opponent will cause numbness and fainting. Because it can't fire boulders at a rapid pace, it's been known to seize nearby Geodude and fire them from its back. It's grumpy and stubborn. If you upset it, it discharges electricity from the surface of its body and growls with a voice like thunder. It shoots large rocks that are charged with electricity. Tremendous electric shocks are flung out across the whole area of impact.
Overview
Gaining a new Electric typing in exchange for its Ground typing, Alolan Golem now has a chance to survive Grass- and Water-type moves instead of almost always losing to them. However, it now gains a quad weakness to Ground-type moves. This still makes Alolan Golem objectively better due to some better moves such as Volt Switch, allowing Alolan Golem to act as a tank or pivot far better than Golem. A different selection of abilities also gives it some different niches than regular Golem as well. All said though, Alolan Golem still isn't the greatest Pokemon, suffering a lot from the same problems as Golem such as its low Speed, Special Defense, and lack of recovery for a bulky Pokemon.
Positives
Offensive Pressure - Bringing more general pressure than Golem, Alolan Golem fits the same role in a very similar way with its Electric typing. However, Alolan Golem losses out on Sucker Punch due to being an old move tutor giving Golem an edge with priority options. Access to Galvanize and Magnet Pull win out in the end though since they give Alolan Golem some very unique utility that isn't replicated by something else.
Typing - While Rock/Ground may arguably have better offensive coverage, Rock/Electric gives Alolan Golem more broad utility since it suffers from less crippling weaknesses while still maintaining great offensive coverage

Negatives
Stats - Losing the Ground type and getting no stat changes is slightly awkward as Electric type is often best as a special type. Alolan Golem's base 55 Special Attack kind of sucks as it makes Volt Switch weak outside of utility, and forces using Wild Charge unless you're running Galvanize. With Alolan Golem's low Speed can be awkward since it will already be taking hits before dishing them out.
Abilities
Galvanize - Changes Normal moves to Electric moves and multiplies power by 1.2x - A strong ability, this allows Alolan Golem to use Return to hit things for more damage than Stone Edge.
Magnet Pull - Prevents Steel types from switching - An amazing ability but without a large amount of Steels as well as Steels being less dominant in lower tier formats, it has less fantastic utility. It's still a great ability though and can let Alolan Golem serve a niche on some standard teams.
Sturdy - Prevents the Poekmon from being OHKOed - A great ability for a slow Pokemon, but it's still less useful than on normal Golem since Alolan Golem has some actually useful alternatives.
Movesets
Offensive Pivot
-Stone Edge
-Fire Punch
-Return / Wild Charge
-Volt Switch / Earthquake
Item Attached: Assault Vest
Ability: Galvanize / Magnet Pull
EVs and Nature:
252 HP / 252 Atk / 4 SpD
Adamant Nature
Stone Edge is a solid STAB move, hitting a portion of the game that Alolan Golem's Electric typing can't hit bar Ground-types. Fire Punch is a strong option as it allows Alolan Golem to handle Steels, synergizing well with Magnet Pull, but without it can still punish Grass-type threats. Return is a strong option with Galvanize but Wild Charge is used if Magnet Pull is the preferred ability. Volt Switch is a strong option as it allows Alolan Golem to bait in Grass-type threats and tag out into something such as Charizard, but Earthquake can be used to beat threats such as Rhydon or Golem despite the lack of STAB.
Steel Trapper
-Wild Charge
-Stone Edge
-Fire Punch
-Earthquake
Item Attached: Choice Scarf
Ability: Magnet Pull
EVs and Nature:
252 Atk / 4 SpD / 252 Spe
Jolly Nature
What looks like a poor man's Magnezone actually has a slight niche as a physical attacking Magnet Pull trapper. Wild Charge will end up being the primary STAB move since it's the most accurate and powerful option Alolan Golem gets, which is notably useful for dealing with Celesteela and Skarmory. Stone Edge is a secondary STAB move that deals with the likes of Thundurus-Therian, Charizard, and Zapdos, though it's often not useful for the foes Golem wants to trap. Fire Punch lets Golem deal with Ferrothorn and Mega Scizor similarly to Hidden Power Fire Magnezone, boasting a little more power to compensate with hitting their higher physical defense. Earthquake is the game changer here that lets Golem trap some foes that Magnezone can't, notably opposing Magnezone, Heatran, and Excadrill among a few others.
Magnet Pull is necessary for this set to work, while a Jolly nature with maximum Speed investment is necessary to outspeed some of these Steel-types. Magnezone is already slow, but Alolan Golem is even slower so the Speed investment is even more necessary here.
Other Options & Partners
-Stealth Rock can be used over Stone Edge on the Choice Scarf set if you're finding the secondary STAB unnecessary, though don't rely on it as your only Stealth Rock setter.
-Counter can be used in combination with Sturdy to try and surprise Ground-types such as Landorus-T, but this is a very niche role that isn't worth considering unless you're really desperate to use Alolan Golem on Battle Spot.

Dragon Types- Trapping Steel types and baiting in Grass threats as well as Special Walls, Dragon attackers are good partners. In lower tiers, Altaria with Dragon Dance is a good option as it can boost easily on Grass-types and can break through Steels on its own with Fire Blast, but likes them to be weakened if possible. In higher tiers, Haxorus and Zygarde are nice as both like Steel-type threats removed and only need one boost to threaten a sweep. .
Checks & Counters
Ground-types - Resisting both of Alolan Golem's STAB moves and not being weak to its coverage options, Ground-types can easily shut down Alolan Golem. Regular Golem itself is a good option with high Defense meaning a non-STAB Earthquake won't OHKO while Golem can OHKO back due to STAB and the quad weakness. Rhydon is another option due to better bulk, while the likes of Landorus-Therian, Zygarde and Garchomp are good picks in more standard play.
Water-types - Despite being weak to this variant of Golem as well, Alolan Golem is still slow and weak to Water-type moves. Most Water-types are special attackers such as Tapu Fini, Keldeo, Primarina, and Manaphy, while Golem still sports a low Special Defense stat, so they can still pick off Golem as long as they're wary of Assault Vest.
-Grass-types - While Water-types need to be very careful against this Golem variant, Grass-types tend to be safer against it due to resisting Electric-type moves. Mega Venusaur, Breloom, Kartana, Tangrowth, and Tapu Bulu are among many Grass-types that threaten Alolan Golem, though they do need to be careful of Fire Punch, especially Kartana.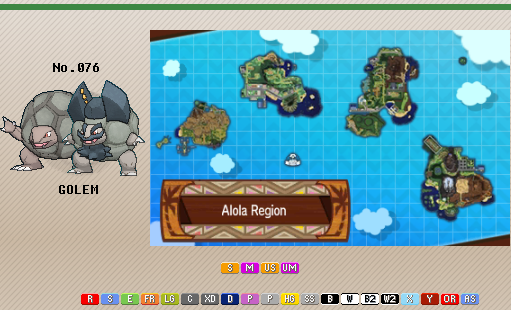 Locations in Games
Red/Blue/Yellow:
Evolve Graveler
Gold/Silver/Crystal:
Evolve Graveler
Ruby/Sapphire/Emerald:
Evolve Graveler
FireRed/LeafGreen:
Evolve Graveler
Colosseum/XD:
Trade from Ruby/Sapphire/Emerald/FireRed/LeafGreen
Diamond/Pearl/Platinum:
Evolve Graveler
HeartGold/SoulSilver:
Evolve Graveler
Black/White:
Evolve Graveler
Black 2/White 2:
Trade from Black & White
X/Y:
Evolve Graveler
Omega Ruby/Alpha Sapphire:
Evolve Graveler
Sun/Moon:
Evolve Graveler
Ultra Sun/Ultra Moon:
Evolve Graveler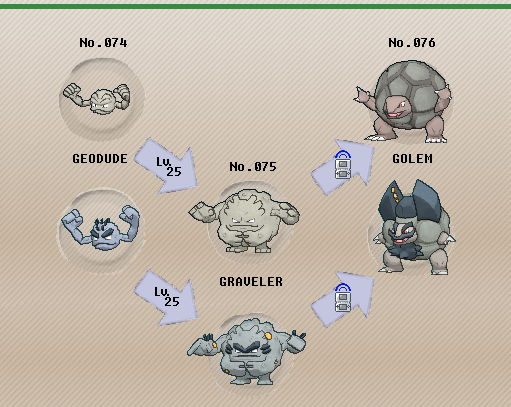 Animé Appearences
| | |
| --- | --- |
| Golem has made a few appearances in the anime. In these, it was under control of a variety of notable trainers including Gary, Flint, Bertha and Giovanni. | |