Sunday: Japanese WiFi Event Reminder + Dub Episode Titles + Pokémon of the Week
30-10-2011 09:31 GMT / 05:31 EDT by Serebii
This update shall be ammended throughout the day. If you have any ideas for the site during the news lull, don't hesitate to send them in
With the first summer since the release of Generation V close to ending, the Chatroom & WiFi Chatroom have been a major hub for discussion & trade respectively so be sure to visit them. Our Forums have also been fixed of all problems and have a bustling trade and competitive section for the games.
Last Update: 17:32 GMT
Edit @ 14:25; Pokémon of the Week | Edit @ 17:32; US Movie 14 Airings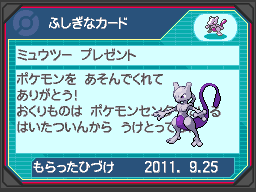 In The Games Department
Pokémon Black & White - Japanese Mewtwo WiFi Event Active
For those of you with the Japanese games, the new WiFi event is coming to a close at the end of tomorrow. This WiFi event is a special Mewtwo commissioned for the first anniversary of Pokémon Black & White and Pokémon Smash and has the moves; Psystrike, Shadow Ball, Aura Sphere and Electro Ball while holding the King's Rock. There is very little time left to get this special Mewtwo so get it while you still can
In The Anime Department
Dub Episode Title
A new dub title was revealed . This is the episode title for the fourty-first episode of Black & White and the 702nd episode total. This episode features Ash & Co. continuing their battles in the Club Battle Tournament in Nimbasa Town and features Iris face up against Stephan. This episode is to be called The Club Battle Hearts of Fury, Emolga Versus Sawk! and is scheduled to air on the 12th of November. Click the picture for synopsis and episode pictures;
In The Anime Department
Dub Episode Title
A new dub title was revealed . This is the episode title for the fourty-second episode of Black & White and the 703rd episode total. This episode features the conclusion of the Club Battle Tournament in Nimbasa Town. This episode is to be called The Club Battle Finale: A Heroes Outcome! and is scheduled to air on the 19th of November. Click the picture for synopsis and episode pictures;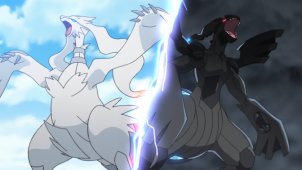 In The Anime Department
Pokémon The Movie White - Victini & Zekrom
For those of you in America, the details on the airing of one of the movies coming this December have been revealed. This movie, the White version, is to air in Cinedigm movie theatres on December 3rd and December 4th only. As such, the Cinedigm site has started listingall the theatres it is to be shown in so make sure you check to see if your local theatre is showing it.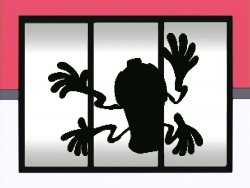 In The Pokémon of the Week Department
Who's That Pokémon
Today marks the fourty-third entry into the Generation V competitive field with one of the new Pokémon to tie in with Halloween. These entries are created by the visitors for the visitors and then compiled by our writer Reno. To get involved, Click here for the discussion forum.
Today, we are covering a Pokémon introduced fifth generation. It has been said that they swallow those who get too close and turn them into mummies. They like to eat gold nuggets. They pretend to be elaborate coffins to teach lessons to grave robbers. Their bodies are covered in pure gold. So here it is, the fourty-third featured Pokémon, Cofagrigus.