Previous Pokémon games had several differences between the two versions. In all games there were different Pokémon in different locations and Ruby & Sapphire took it further by having a different storyline between the games. However, Black & White take this feature to another level and include battles being of a different style depending on your games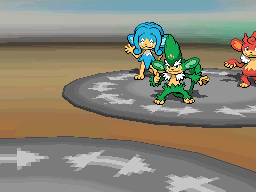 Triple & Rotation Battles
Pokémon Black & Pokémon White both introduce Triple Battle and Rotation Battle mechanics to these games and as such, you will discover numerous trainers that will provide one or the other. However, there are some trainers which will provide a type of battle dependant solely upon the game you are playing. This means that when you battle the specific trainer in Pokémon Black, it will be a different style of battle to its counterpart in Pokémon White, so if you have a Rotation Battle with a specific trainer in Black, then in White it will be a Triple Battle and vice versa. There are however trainers which will do Triple Battles in both games so not every trainer switches.
| | | | | |
| --- | --- | --- | --- | --- |
| Place | Trainer | Black Battle Style | White Battle Style | Pokémon |
| Driftveil City | Biker チャールズ | Rotation Battle | Triple Battle | Basculin, Krokorok, Zebstrika |
| Opelucid City | Ace Trainer エリナ | Rotation Battle | Triple Battle | Simisage, Simisear, Simipour |
| Marvelous Bridge | Ace Trainer ナオキ | Triple Battle | Rotation Battle | Alomomola, Klinklang, Beheeyem |
| Black City | ジョニー | Rotation Battle | | Krookodile, Gothitelle, Galvantula |
| Black City | ノブヒコ | Rotation Battle | | Excadrill, Beartic, Heatmor |
| White Forest | ユカリ | | Triple Battle | Vanilluxe, Cinccino, Chandelure |
| White Forest | シンジ | | Triple Battle | Reuniclus, Cofagrigus, Scrafty |
Other Battles
In addition to the above, there are several trainers who either don't exist based on the game or have differing Pokémon between game versions. These are mostly not that dramatic but are worthy of note
Opelucid City Gym Leaders - Drayden & Iris

After listening to the Plasma speech in Opelucid City, you will be told about the legends by Drayden and Iris. After this, one will leave and go to the gym. After fighting your way through the Gym, you will face the Gym Leader. In Pokémon Black, this Gym Leader is the male Drayden and in Pokémon White, the Gym Leader is the young girl, Iris. They both have the same Pokémon so the change is superficial.




N's Castle - N

After defeating the Elite Four and capturing Reshiram/Zekrom, you will face up with N. N's team is pretty much the same within both versions, but the key Pokémon in his battle will be different. If you are playing Pokémon Black, he will have the Black Yin Pokémon, Zekrom while if you're playing Pokémon White, he'll have the White Yang Pokémon, Reshiram.