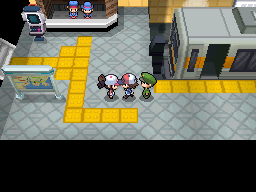 Battle Subway - Multi Battles
Like the Battle Towers in Sinnoh & Johto, the Battle Subway has a line for Multi Battles in both Normal & Super modes. Again, like those past games, you can do this in both Wireless and Single Player modes. In the single player mode, you need to decline the opening of a wireless room at the start. When done, the other gender character will come into the area and will offer to join you. Unlike past games, they are the only single player partner you can have. However, in a first, you can also battle the Subway Masters in this mode.
When they join you, they'll offer you a choice of multiple teams for you to pick from. An offensively orientated team, a defensively orientated team or a balanced team. The pool of Pokémon to be used for teams are listed below and both are combined for the balanced team.
Pokémon Trainer Hilbert (トウヤ)
Pokémon Trainer Hilda (トウコ)
Pokémon in Offensive Team & Balanced Team
Pokémon in Defensive Team & Balanced Team