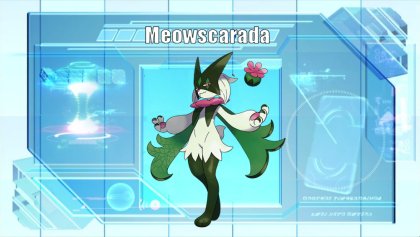 Meowscarada, the Magician Pokémon. This Pokémon uses the reflective fur lining its cape to camouflage the stem of its flower, creating the illusion that the flower is floating. With skillful misdirection, it rigs foes with pollen- packed flower bombs. Meowscarada sets off the bombs before its foes realize what's going on.
Overview
Meowcarada continues the strong tradition of fast offensive starters with variable types. Protean, even after its nerf, is an absurd ability, giving Meowscarada STAB on its many, many coverage moves, greatly reducing safe switch ins. Flower Trick is a ludicrous STAB invalidating many defensive tools like Intimidate and Iron Defense unless the target resists the move. And its not even Meowscarada's offense that makes it terrifying. It has plenty of utility as well -with U-Turn and the now rare Knock Off providing fantastic disruption while applying offensive pressure.
However, Meowscarada is far from perfect. Grass-Dark is a horrid base typing with a myriad of weaknesses to exploit and Meowscarada's lackluster defenses make sticking around all the more difficult. Vulnerability to all hazards further shortens Meowscarada's timer. Base 110 Attack is not world breaking, leaving Meowscarada struggling against more defensive targets, especially Fire types where there are no direct answers. In the end, despite its flaws Meowscarada is still a fantastic starter that holds to the general excellence of Greninja and Cinderace and is an excellent way to start out the generation..
Positives
Base 123 Speed is fantastic, with only four commonly used Pokémon naturally outspeeding it, enabling Meowscarada to get the jump on most of its competition.
Protean is as ever an absurd ability despite its nerf, turning Meowscarada's fantastic coverage into viable STABs and greatly reducing the number of weaknesses it has.
Great support tools in U-Turn, Knock Off, Spikes and Toxic Spikes give Meowscarada a tool for nearly every occasion.
Flower Trick is an amazing STAB, enabling Meowscarada to hit far harder than what would otherwise be expected of it.

Negatives
Poor defenses, common weaknesses and vulnerability to entry hazards leave Meowscarada offering little defensive utility.
Base 110 Attack, while good, is not overwhelmingly strong leaving Meowscarada struggling against bulkier foes.
Protean while excellent, does not mesh well with Terastalizing
Meowscarada stood up
Movesets
Cattail Burglar
-Flower Trick
-Knock Off
-U-Turn
-Play Rough
Ability: Life Orb
Item: Protean
EVs and Nature:
4 HP / 252 Atk / 252 Spe
Jolly Nature
Meowscarada excels as a revenge killer and hit and run artist and this set enables Meowscarada to perform both roles to the best of its ability. Flower Trick is an amazing STAB, effective Base 105 Power with no drawbacks and smacks the many popular Rock, Ground and Water types around hard. Knock Off is an amazing STAB, not only doing major damage, but providing invaluable item removal, punishing would be safe switch ins like Volcarona, Scizor and Corviknight by removing their Heavy Duty Boots, Choice Band and/or Leftovers, compromising their roles. U-Turn is fantastic scouting tool, punishing predicted switch ins and pivoting into yet another advantageous position. Play Rough rounds out the set, turning Meowscarada into the fantastic Fairy type and punishes Dragon types that think they can switch in on Flower Gift and Dark types that can switch in on Knock Off.
Tera Types:
You almost never want to Terastalize Meowscarada due to Terastalization's type locking effect has negative synergy with Protean. If you do need to Terastalize Meowscarada, Grass is excellent for driving Flower Trick to even greater heights, Fire resists a good number of Meowscarada's weaknesses and a Fire Tera Blast is great for melting Steel types and Water gives an answer to Fire types that Meowscarada often struggles with. Ghost blocks Dragonite's Extremespeed and Breloom's Mach Punch, two priority moves that otherwise give Meowscarada trouble.
EVs and Items:
Standard Sweeper allocation of Max Attack and Speed to get the jump on and do as much damage as possible. Life Orb gives plenty of power while retaining the flexibility Meowscarada desires for as much disruption as possible, though Meowscarada is flexible. Heavy Duty Boots plays well with Meowscarada's hit and run playstyle, Choice Scarf turns Meowscarada into an even more effective revenge killer and Choice Band helps alleviate a bit of Meowscarada's power woes.
Partners:
As with any Grass type, the Grass-Fire-Water core is invaluable, with each member covering for the others weaknesses. Dondozo deserves mention for punishing setup attempts, Azumarill resists most of Meowscarada's weaknesses and Volcarona can take advantage of the more defensive Pokémon Meowscarada lures in to use as setup bait for itself. Meowscarada can also be party to VoltTurn strategies, using constant pivoting to maintain the upper hand on your opponent. Palafin is a natural inclusion for this, being part of the Water-Grass core. Rotom-Wash and Rotom-Heat also fit naturally, their special offenses complimenting Meowscarada's physical. Entry Hazard setters like Great Tusk, Glimmora, and Clodsire also pair well with Meowscarada. Knock Off punishes many hazard clearers by removing the Heavy Duty Boots that enables them to repeatedly clear entry hazards and the hazards themselves pair well with Meowscarada's ability to force switches. In turn, many of these Pokémon fare poorly against Water and Grass types while Meowscarada excels in removing them, making their jobs easier.
Other Options:
Spikes -Another Method Meowscarada can punish predicted switches. Low Kick -Hits most Steel types hard who otherwise can tank Meowscarada's assault. Thunder Punch -Hits Corviknight and Toxapex hard which, while not much are defensive staples you must be on the lookout for. Sucker Punch -is great for the few faster threats Meowscarada has to contend with as well as opposing Choice Scarf users.
VGC & Doubles Options
Meowscarada gets up to many of the same tricks in a Doubles setting as it does in singles. Knock Off's Item Disruption is incredibly powerful in the early game, removing key items that render a Pokémon vulnerable to disruption or even shutting down entire strategies entirely. Positioning with STAB U-Turn is equally invaluable and Urshifu has proven how valuable Auto-Critical Hit moves are in a doubles setting, enabling the user to ignore Attack Drops and Defense boosts. And all of this enabled by Meowscarada's incredible base speed that demands a Choice Scarf or priority to deal with. However, Meowscarada's durability flaws are even more apparent in doubles, and can be taken out quickly with good prediction on your opponent's part.
It Takes Two to Tango
-Protect
-Knock Off
-U-Turn
-Flower Trick
Ability: Clear Amulet
Item: Protean
EVs and Nature:
4 HP / 252 Atk / 252 Spe
Jolly Nature
Meowscarada gets up to similar Tricks in doubles, being a veritable early game advantage engine. Protect is as always the best attack in Doubles, stalling out crucial Trick Room/Tailwind/Weather turns, scouting for attacks, avoid getting wrecked by your own partner, etc. Knock Off is just as powerful, if not even moreso in doubles as it is in singles. Stopping a Weakness Policy sweep before it starts, rending a target vulnerable to Intimidate and Fake Out, removing a key Pinch Berry stopping your Sweeper from getting the KO, etc. U-Turn is great, pivoting in from a bad position while not letting up on damage and getting in targets relatively safely and without fear of Intimidate. Flower Trick rounds out the set as the key damage dealer, enabling Meowscarada to reach for KOs and threatens Dondozo ignoring its Defense boosts.
Clear Amulet is item of choice. Meowscarada wants to open a match so that its Item disruption is as effective as possible, but since most Intimidate users are sent out at that time, having this to keep Knock Off and U-Turn's power up is incredible.
Partners & Options:
Indeedee is great for blocking priority with Psychic Surge, ensuring Meowscarada is the fastest Pokémon on the field, while Meowscarada in turn answer opposing Psychic types with Knock Off and U-Turn. Amourage further fits nicely with this pairing forming a Fire-Grass core with Meowscarada and abusing Indeedee's Psychic Terrain with Expanding Force. Kilowattrel and Talonflame's Tailwind also helps enable Meowscarada's speed advantage and their secondary typings pair very well with Meowscarada's Grass. Sucker Punch -Invaluable Priority for picking off weakened targets
Countering Meowscarada
Fire types are the most consistent problem for Meowscarada, as beyond Terastalizing, the most it can do is hit them with a STAB Knock Off, which can be annoying. Torkoal has the Defense to disregard Meowscarada's Knock Off while Volcarona threatens crippling Flame Body burns despite not taking the attack too well itself.
Steel types also prove a thorn in Meowscarada's side if not running Low Kick. Orthworm and Scizor can use Meowscarada as setup fodder, and Corviknight is even worse, only taking appreciable damage from Thunder Punch, though note none of these Pokémon like having their item Knocked Off.
However the best way to deal with Meowscarada is to outspeed it, as this prevents its Knock Off and emergency pivots with U-Turn while avoiding the type changing shenanigans of Protean. Dragapult stands out, able to OHKO with Specs Flamethrower or Draco Meteor as does Iron Bundle with Ice Beam. Choice Scarf users can also make effective surprise revenge killers, such as Hydreigon or Annihilape.
Lokix is especially troublesome for Meowscarada, its First Impression a Guaranteed OHKO if Protean hasn't activated and can still reach for the OHKO if Lokix is Banded, but can't switch into Play Rough. Other priority users like Mach Punch Breloom, Extreme Speed Dragonite, Ice Shard Weavile, and Chien-Pao also handily dispatch Meowscarada. Note that none of these faster Pokémon can switch into Meowscarada safely and can miss out on their KOs due to a difficult Protean Change.
Locations in Games
Red/Blue/Yellow:
Not in game
Gold/Silver/Crystal:
Not in game
Ruby/Sapphire/Emerald:
Not in game
FireRed/LeafGreen:
Not in game
Colosseum/XD:
Not in game
Diamond/Pearl/Platinum:
Not in game
HeartGold/SoulSilver:
Not in game
Black/White:
Not in game
Black 2/White 2:
Not in game
X/Y:
Not in game
Omega Ruby/Alpha Sapphire:
Not in game
Sun/Moon:
Not in game
Ultra Sun/Ultra Moon:
Not in game
Let's Go, Pikachu!/Let's Go, Eevee!:
Not in game
Sword/Shield:
Not in game
Brilliant Diamond/Shining Pearl:
Not in game
Legends: Arceus:
Not in game
Scarlet/Violet:
Evolve Floragato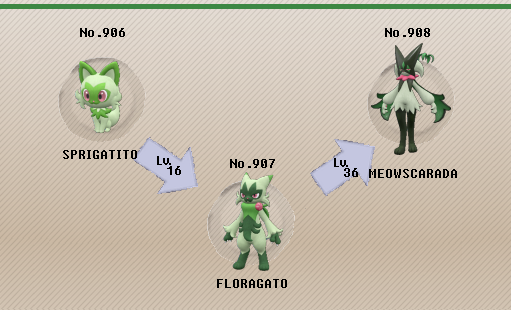 Anime Appearences
Meowscarada has not yet been showcased in the anime

| | | | |
| --- | --- | --- | --- |
| # | -English Episode Name- | -Jp. Episode Name- | Pics |