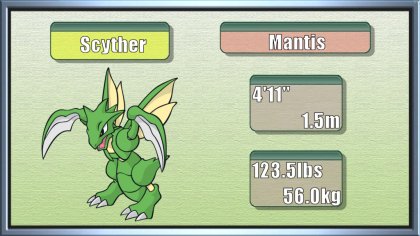 Scyther, The Mantis Pokémon. The sharp scythes on its forearms become increasingly sharp by cutting through hard objects.It is nearly impossible to parry its attacking scythes. Its movements are like a ninja's. When it moves, it leaves only a blur. If it hides in grass, its protective coloration makes it invisible.
Overview
Scyther was one of the best Bug-type Pokémon in the first generation, with great stats but a lacking movepool. While it got an evolution in Gold & Silver, Scyther is still a very usable Pokémon due to its attack stat, and was further benefited by the Physical/Special split. It also has the Technician ability which means it can use fairly lower strength moves and get a boost. Plus, as it can evolve, it gets a decent boost with Eviolite which gives it incredibly high defences. Despite its decent stats, it does have a few weaknesses which stop it being widely used.
Abilities
Swarm: A fairly decent ability that boosts Bug-type moves when Scyther has low Hit Points. However, with the weaknesses, Scyther can be pretty frail so you may not have time to activate.
Technician: This ability is fairly decent, boosting strength of moves with Base Power of 60 by 50%. This is quite handy, but Scyther lacks many usable moves of that level.
Steadfast: Can be good if you can predict it, but Steadfast relies too much on the flinch mechanic which is rarely used when not at the start of battle
Rehtycs
-Endure
-Reversal
-Aerial Ace
-Quick Attack
Item Attatched: Salac Berry
Ability: Technician
EVs and Nature:
EVs: 252 Atk / 4 Def / 252 Spd
Nature: Adamant
Endure/Reversal sets aren't seen very often as they are risky to pull off. The idea is to Endure a hit that would otherwise KO Scyther so that it's left with 1HP, trigger Salac Berry and then proceed with using a 200 Base Power Reversal. Aerial Ace is boosted by Technician and STAB for 135 Base Power and hits most things Reversal can't. Quick Attack is there as a speed priority move to either finish a foe off quickly or attack before your opponent uses a speed priority move on you.
BPScyther
-Swords Dance/Agility
-Aerial Ace
-Bug Bite/Substitute
-Baton Pass
Item Attatched: Focus Sash/Salac Berry/Leichi Berry
Ability: Technician
EVs and Nature:
EVs: 4 HP / 252 Atk / 252 Spd
Nature: Jolly/Adamant
Nice and easy Baton Pass set. Either Swords Dance or Agility up, then attack or Baton Pass. If you want to run Swords Dance, go with a Jolly nature; if you want to run Agility, go with an Adamant nature. Aerial Ace is a nice STAB moved powered by Technician. Bug Bite is more powerful than X-Scissor with Technician and has the added bonus of eating the opponent's berry. Behind a Substitute, Scyther is immune to status, can set up as much as he likes and is essentially protected from KOs. A substitute allows more freedom to Baton Pass as the newcomer won't take any damage from the opponent's attack during the switch. If you run Bug Bite, use Focus Sash to guarantee a Swords Dance/Agility boost to then Baton Pass. If you run Substitute, use an appropriate pinch berry.
Another Bug Bites the dust
-Swords Dance
-Aerial Ace
-Bug Bite
-Brick Break
Item Attatched: Evolite
Ability: Technician
EVs and Nature:
EVs: 4 HP / 252 Atk / 252 Spd
Nature: Jolly
Easy sweeping set. Set up a Swords Dance and sweep. Only 5 Pokemon resist this set (Emolga, Rotom, Rotom Fan, Thundurus and Zapdos).
Choice Scyther
-Aerial Ace
-U-Turn/Bug Bite
-Brick Break
-Quick Attack
Item Attatched: Choice Band
Ability: Technician
EVs and Nature:
EVs: 4 HP / 252 Atk / 252 Spd
Nature: Jolly
Classic Choice set here for Scyther. By teaming it with Technician, sufficient damage can be inflicted on the Pokémon. Aerial Ace will always hit with STAB and the boost from Technician and Quick Attack will get priority in addition to the boost the boost. There are two choices for the Bug-type move. Bug Bite is limited to Scyther from Generation IV but gets a boost from Technician while U-turn gives Scyther a good means to scout; send it in, do damage and leave.
EVs & Natures
Scyther
For almost every set, you'll want to give Scyther 252 Attack and 252 Speed. The other distribution is up to you, but could be used to shore up defences a little.
Other Options
Counter, Flying Gem, Pursuit, Roost, U-Turn
Counter - Coupled with Focus Sash, Counter is ultimately a surprise attack but requires prediction and is therefore rather risky to use.
Flying Gem - Coupled with Technician on Aerial Ace can really do some decent damage.
Pursuit - With Technician, its Base Power becomes 60. On switching Pokemon, its Base Power becomes 80. It's only useful on switching Pokemon as even a super effective hit on a non-switching Pokemon is weaker than STAB + Technician Aerial Ace.
Roost - Nice recovery move which also removes Scyther's Flying type for the turn. Works well with Evolite.
U-Turn - Useful for scouting.
Double & Triple Battle Options
Scyther isn't the best in Double & Triples. It resists Ground moves so can be teamed with an Earthquake user easily enough. In Triples, Scyther can be quite useful as Technician Aerial Ace can hit completely across the field. However, if teamed with someone with Wide Guard, it can be protected against Rock Slides
Partners
Partners... well, you need to get rid of Stealth Rock as it destroys Scyther so you a rapid spinner would be vital to be teamed with.
Countering Scyther
Scyther can be a bit of a pain to counter. It's hits hard and it hits fast. However, Stealth Rock destroys Scyther easily. Rock types like Rhyperior, Archeops, Carracosta, Probopass and Bastiodon are decent enough to withstand Scyther's hits and hit Scyther hard. Fire & Ice-types are also a decent way to take out Scyther with moves like Flamethrower and Ice Beam doing decent damage. Finally, priority moves such as Ice Shard are key in fighting Scyther due to its speed. Heracross & Breloom, while seeming to be weak to Scyther's STAB moves, can often hit hard and fast and can be kitted out with Rock-type moves like Stone Edge and Rock Slide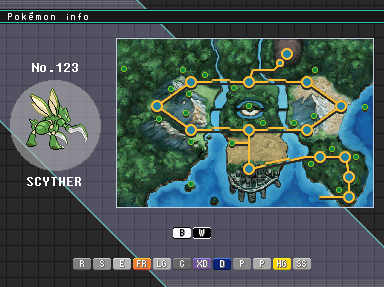 Locations in Games
Ruby/Sapphire/Emerald:
Trade from FireRed/XD.
FireRed/LeafGreen:
Safari Zone Areas 1 & Center (FireRed)
Trade from FireRed/XD (LeafGreen).
Colosseum/XD:
Snagged from Cipher Peon Leden in Citadark Isle (XD)
Trade from FireRed ( Colosseum)
Diamond/Pearl/Platinum:
Route 229 (Diamond)
Route 210, Route 215 (Platinum)
Trade from Diamond/Platinum/HeartGold/SoulSilver (Pearl).
HeartGold/SoulSilver:
Bug Catching Contest .
Black/White:
Transfer from Generation IV
Pleasant Forest (Dream World)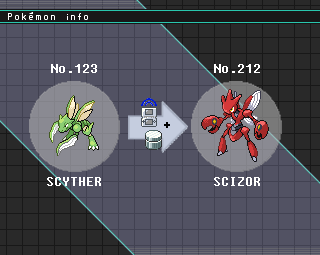 Animé Appearences
| | |
| --- | --- |
| Scyther has made a few of appearances. In several, it was used by Tracey sketchit as he defended against Team Rocket in the Orange Islands and Kanto. Bugsy also had one and used it in his Gym Battle against Ash | |