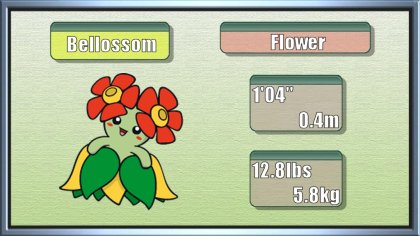 Bellossom, The Flower Pokémon. When the heavy rainfall season ends, it is drawn out by warm sunlight to dance in the open. They gather at times and seem to dance. They say that the dance is a ritual to summon the sun. Plentiful in the tropics. When it dances, its petals rub together and make a pleasant ringing sound.
Overview
Bellossom has never really been anything special. From the get-go, it was used as a Sunny Day user and… that's about it. 5th gen brought it a few improvements, but it also ruined its only purpose by giving Vulpix Drought. I mean… you can still use Bellosson for its support moves, and it can be offensive with Chlorophyll, but there are way better Grass Pokémon out there.
Abilities
Chlorophyll: double Speed under sun. It's awesome, especially considering how dire Bellossom's Speed is.
Healer: literally has no use in singles, and in doubles/triples... honestly, I'd rather use Chlorophyll. It has a 30% chance of healing adjacent ally of a major status.
Movesets
Swords Dance
- Swords Dance
- Leaf Blade
- Drain Punch
- Sleep Powder / Sunny Day / Stun Spore / Return / Moonlight
Item Attached: Life Orb / Heat Rock
Ability: Chlorophyll
EVs and Nature:
EVs: 4 HP / 252 SAtk / 252 Spd
Jolly Nature (+Spd, -SAtk) / Adamant Nature (+Atk, -SAtk)
Swords Dance doubles your Attack, which actually reaches a somewhat high level. Leaf Blade has 90 power, STAB, and a high crit chance. It's the best physical Grass move around. Drain Punch got improved greatly in 5th gen, making it a somewhat splashable. Bellossom doesn't have many other attacks to use anyway, so why not? Allows you to take out Steels that wall Leaf Blade, and get healed by half of the damage you deal. Sleep Powder shuts down a counter and allows you set up time. Sunny Day if you don't want to rely on Vulpix or Ninetales setting up sun… or if you want to use Bellossom in NU where it resides. Stun Spore isn't as useful as Sleep Powder, but can be used more than once to cripple multiple enemies. Return is the only other physical attack you have access to, and Moonlight heals you by a lot in sun. Makes sense to me!
Choice
- Leaf Storm / Petal Dance
- Energy Ball / Giga Drain
- Hidden Power [Fire]
- Sleep Powder
Item Attached: Choice Specs / Choice Scarf
Ability: Chlorophyll
EVs and Nature:
EVs: 4 HP / 252 SAtk / 252 Spd
Timid Nature (+Spd, -Atk) / Modest Nature (+SAtk, -Atk)
I'm surprised Bellossom has enough moves for a choice set. Leaf Storm smacks hard… then you get -2 SAtk, so you're forced to switch out. Petal Dance got crazy buffed this generation, making it more or less a special Grass Outrage. 120 base power is tight. Energy Ball and Giga Drain are attacks that don't have a negative effect, and are reliable. Good for revenge killing, or just smacking something without leaving yourself in a bad position. Hidden Power [Fire] ruins Steels, Bugs and Grass Pokémon, all of which wall your STAB moves. It also gets boosted by sun. Sleep Powder puts something to sleep, and it uses up a moveslot.
EVs & Natures
Bellossom
Offensive sets will run max offence and max Speed, as Bellossom needs a lot of help in both departments. Defensive sets like double powder… max HP and max SDef most likely, considering Special Defence is Bellossom's highest base stat.
Other Options
Charm, Grass Knot, Leech Seed, Sludge Bomb, SolarBeam, Teeter Dance
Charm halves the opponent's Attack and most of the time forces them to switch.
Grass Knot is another Grass attack that you can use, if you wanted.
Leech Seed can be used with Substitute to make a really, really bad SubSeed set.
Sludge Bomb really hurts Grass Pokémon and has a nice base 90 power.
SolarBeam hits hard, but NEEDS sun in play for it to work. Even then, I wouldn't use it.
Teeter Dance confuses the opponent.
Double & Triple Battle Options
Healer is only useful in this environment, and saying useful is being kind. I can't imagine status attacks being common in doubles or triples, let alone common enough to warrant a completely luck based ability deciding whether or not they get healed. You have the standard sets for singles that work in doubles, just make sure to have sun support.
Partners
Removal of Fires and Grass Pokémon is essential. Steels are also a priority to remove, even if you have moves that can hurt them. Flash Fire Pokémon with a non-Fire move can take care of all of them. Oh, make sure to use Bellossom in sun… ideally, Drought with Ninetales or Vulpix. Standard physical or special walls (depending on the set you use) can most of the time deal with Bellossom, so making sure to be ready for Registeel and Chansey and scum is always handy. You can't really touch Flying Pokémon at all, so an Electric Pokémon would fit in well.
Countering Bellossom
If you resist Grass, you'll do well against Bellossom. That's the rule of thumb here. Steel, Fire, Grass, Poison, Bug, Flying, Grass is a HORRIBLE offensive type. Notable Steel Pokémon include Registeel, Wormadam-S, Bronzong, there's a load of bulky Steels (even some not bulky) that wall Bellossom to high heaven. Houndoom, Arcanine, Torkoal, and Entei are some low tier Fires that work. Other Grass Pokémon that can beat Bellossom… Tangrowth, Leafeon, Shiftry… as long as you can hit it with something that isn't Grass, it'll do a load of damage. Weezing, Toxicroak, Muk, Garbodor, that sort of crowd. Bugs are easy; Heracross, Yanmega, Venomoth, Parasect, whatever. Flying Pokémon like the Legendary Birds, and even standard ones like Pidgeot, Staraptor and Unfezant are very capable of taking out Bellossom with very few difficulties.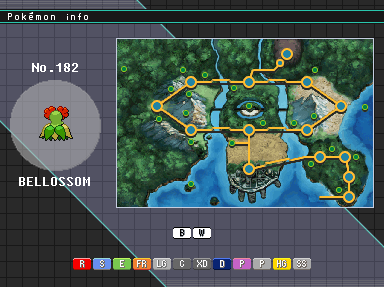 Locations in Games
Ruby/Sapphire/Emerald:
Evolve Gloom .
FireRed/LeafGreen:
Evolve Gloom (FireRed)
Trade from Ruby/Sapphire/Emerald/FireRed (LeafGreen)
Colosseum/XD:
Trade from Ruby/Sapphire/Emerald/FireRed.
Diamond/Pearl/Platinum:
Evolve Gloom .
HeartGold/SoulSilver:
Evolve Gloom .
Black/White:
Evolve Gloom (White)
Trade from White/Transfer from Diamond/Pearl/Platinum/HeartGold/SoulSilver (Black)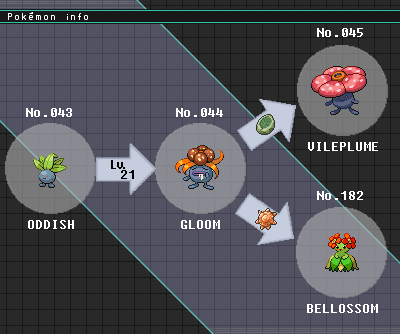 Animé Appearences
| | |
| --- | --- |
| Bellossom has made a few appearances. Most of its appearances have had it seen tending a garden or as part of a dance troupe | |