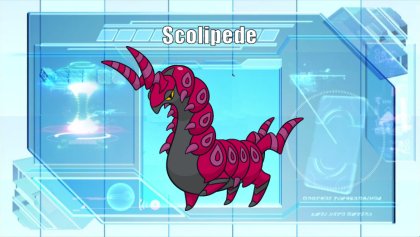 Scolipede, The Megapede Pokémon. Scolipede latches on to its prey with the claws on its neck before slamming them into the ground and jabbing them with its claws' toxic spikes. Scolipede engage in fierce territorial battles with Centiskorch. At the end of one of these battles, the victor makes a meal of the loser.
Overview
Scolipede was reintroduced in the Isle of Armor alongside a wave of other very power Bug types and made a name for itself, despite the fierce competition. Possessing the amazing Speed Boost ability alongside Swords Dance, Scolipede can escalate out of control very quickly, thanks to its wide movepool providing ample coverage. Scolipede's high base speed makes it difficult to outspeed after one boost and nigh impossible after two.
However, Scolipede's failings hold it back. Its bulk is poor, and while it won't immediately crumple to priority, it cannot take many hits making it difficult to setup and easy to wear down. Scolipede's Attack is average, and that lack of power leaves Scolipede flailing against common walls like Skarmory and Corviknight who can eat multiple Swords Dance boosted attacks with ease. Stiff competition in Blaziken who fills the near same role, but with superior bulk and typing does not help matters either. All in all, Scolipede can be difficult to use, but when played to its strengths it will tear teams apart.
Positives
Base 112 Speed combined with Speed boost makes Scolipede near impossible to outspeed.
A wide Physical movepool with impressive STABs and a setup option in Swords Dance gives Scolipede a tool for nearly every opponent
Wide Support movepool including entry hazards and Baton Pass gives Scolipede a surprising degree of flexibility
Negatives
Its bulk is poor, making it difficult to setup or eat hits if it fails to reach the one hit knock out.
Average Base 100 Attack leaves a lot to be desired and prevents Scolipede from forcing its way past dedicated physical walls
Four Moveslot syndrome is a huge problem as Scolipede cannot run all the coverage it wants and the mandatory Swords Dance.
Outclassed by Blaziken in most ways as a Speed Boost sweeper.
Movesets
Swordipede
-Swords Dance
-Megahorn
-Poison Jab
-Earthquake
Item Attached: Focus Sash
Ability: Speed Boost
EVs and Nature:
4 HP / 252 Atk / 252 Spe
Jolly Nature
Scolipede makes for a potent end game sweeper once the opposing team has been weakened enough. Come in on something it solidly resists, Swords Dance and go for the throat. Megahorn is an amazing STAB move that blows by anything nonresistant, while Poison Jab is weaker albeit more reliable and hits the ever popular Fairy type. Earthquake rounds out the moveset hitting Poison, Steel and Fire types that otherwise can tank Scolipede's STABs.
DYNAMAX:
Scolipede does like Dynamaxing, as it needs that extra bulk and Dynamax synergizes well with Speed Boost's snowballing qualities. However Scolipede's base moves leave a bit to be desired. Max Quake and Max Flutterby both nerf Special Attacks, except one is STAB and one isn't. Max Ooze is worthless on Scolipede, as outside of STAB it provides no benefit.
EVs and Items:
Max Attack and Speed, so you can outrun everything and hopefully OHKO it after a Swords Dance. Focus Sash is recommended to enable more setup opportunities for Scolipede, though the power bonus from Life Orb is considerable. Jolly Nature is heavily recommended, as without it, you are outsped by positive natured Base Speed 100 pokémon before a Speed boost (and still outsped if any are running Choice Scarf). However, Adamant Nature does Guarantee the OHKO on bulkless Dragapult and Keldeo, and make a OHKO possible on Kommo-o, Mandibuzz and Melmetal.
Other Options:
Throat Chop hits Ghost types that otherwise resist Scolipede's STABs, but most of them are also hit hard by Earthquake.
Rock Slide deals with Flying types and has a meaty flinch chance, but Poison Jab hits most Flying types hard enough.
Superpower provides coverage against Steel and defensive rock types and synergizes well with Dynamax turning into a potent Max Knuckle, but doesn't help with Ghost types and can wipe away those hard earned Swords Dance.
Aqua Tail -Hits Rhyperior and Hippowdon harder than anything else, but can be a bit unreliable.
Partners:
Magnezone traps and eliminates Skarmory, Celesteela and Corviknight who all otherwise solidly wall Scolipede and can quickly take it out with their STABs. Water types make great partners, dealing with troublesome Fire types. Gastrodon, Swampert and Seismitoad all do this, deal with Steel and Poison types thanks to their Ground STAB, setup Stealth Rock to put opponents in OHKO range and draw in Grass types that Scolipede can use as setup fodder. Gastrodon and Seismitoad can create more setup opportunities with Scald Burns, while Swampert easily acts as a slow pivot with Flip Turn to get Scolipede in safely.
Centipass
-Baton Pass
-Swords Dance
-Megahorn
-Earthquake
Item Attached: Focus Sash
Ability: Speed Boost
EVs and Nature:
4 HP / 252 Atk / 252 Spe
Jolly Nature
Scolipede makes a fantastic Baton Passer as well, especially considering it can use the boosts itself instead of being forced to pass to a teammate. Baton Pass is the crux of the set, and is amazingly flexible, not only allowing Scolipede to pass off its buffs, but to scout for predicted switches and punish them accordingly. Swords Dance is one of the best buffing moves that can be passed on or used by Scolipede. Megahorn is powerful STAB, while Earthquake provides the best coverage. If you run into something that Scolipede's moves can't cover, Baton Pass to something that can.
DYNAMAX:
The lack of coverage on this set makes Dynamax unappealing and better left on for the recipient of the Baton Passes..
EVs and Items:
Max Speed is mandatory to ensure that Scolipede gets the jump on everything not using a priority move so it can safely pass off the boosts. Max Attack is recommended, so Scolipede can bluff the Swords Dance set, and remain useful if it is the last Pokémon. Focus Sash helps ensure that Scolipede lives to Swords Dance. However, if you are running a more passive set, there is good reason to invest in HP to give Scolipede as much bulk as possible.
Other Options:
Spikes/Toxic Spikes -These syergize surprisingly well with a Baton Pass set, enabling Scolipede to quickly hop in and out as it lays down hazards without sacrificing momentum.
Endeavor -for Hyper Offense teams, works well with a Focus Sash to bring a target down to 1 HP for the breaking.
Partners:
Dracozolt and Zeraora love the buffs that Scolipede passes and can easily dispatch the Flying types that often get lured in (especially by the Spikes variant)
Krookodile is another fantastic pass recipient, able to take on many of the threats (Steel, Poison, Ghost) that Scolipede can't and can enable setup opportunities with Intimidate, or just further snowball out of control with Moxie
Countering Scolipede
Skarmory, Celesteela and Corviknight all solidly counter Scolipede, taking pittance from even +2 coverage moves and can setup and remove hazards on Scolipede with impunity while easily threatening the OHKO with their STABs.
Heatran does well against sets lacking Earthquake and Aqua Tail and threatens the OHKO. Toxapex solidly walls any set without Earthquake and can burn with Scald or wipe away the boosts with Haze.
Lycanroc-Dusk Form threatens a OHKO with Accelerock, and will achieve it with any chip damage, making it a great way to stop a Baton Pass or remove an established Scolipede. Other priority users like Mamoswine, and Azumarill can pick off a weakened Scolipede, but generally require it to be around half health.
Scarf Dragapult and max Speed Regieleki actually still outspeed Jolly Scolipede at +1 and can easily OHKO it before it can setup more.
Locations in Games
Red/Blue/Yellow:
Not in game
Gold/Silver/Crystal:
Not in game
Ruby/Sapphire/Emerald:
Not in game
FireRed/LeafGreen:
Not in game
Colosseum/XD:
Not in game
Diamond/Pearl/Platinum:
Not in game
HeartGold/SoulSilver:
Not in game
Black/White:
Evolve Whirlipede
Black 2/White 2:
Pinwheel Forest
X/Y:
Evolve Whirlipede
Omega Ruby/Alpha Sapphire:
Trade from X/Y
Sun/Moon:
Evolve Whirlipede
Ultra Sun/Ultra Moon:
Trade from Sun/Moon
Let's Go, Pikachu!/Let's Go, Eevee!:
Not in game
Sword/Shield:
Forest of Focus
Max Raid Battles: Fields of Honor, Soothing Wetlands, Forest of Focus, Training Lowlands, Workout Sea, Stepping-Stone Sea
Dynamax Adventures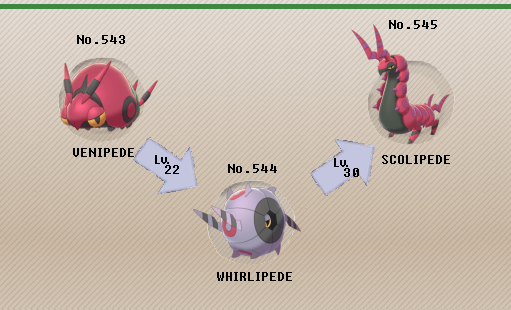 Anime Appearences
| | |
| --- | --- |
| Scolipede has made a few appearances in the anime. Most notably, it was used by Roxie in Ash's Unova League campaign | |