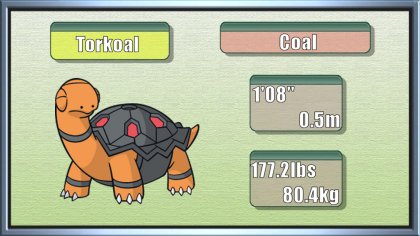 Torkoal, The Coal Pokémon. It burns coal inside its shell for energy. It blows out black soot if it is endangered. You find abandoned coal mines full of them. They dig tirelessly in search of coal. It burns coal inside its shell. If it is attacked, it belches thick, black smoke and flees. It battles using energy it gets from burning coal. When loosing smoke from its nostrils, it lets off a sound that is similar to a locomotive's horn.
Overview
Torkoal... is really underwhelming, in all honesty. Great physical bulk, an acceptable movepool, pretty good offensive stats for a primarily defensive Pokémon... TERRIBLE typing, no recovery, dire Special Defence it's really struggling to look good here. It does fit into a very small group of Pokémon that have both an entry hazard and Rapid Spin, which is cute. It's a Fire type, so as a spinner constantly needs to switch into Stealth Rock. Not good. It can be "offensive" as it got Shell Smash (aka the best boosting move in the game), but running from 20 base Speed is depressing.
Abilities
White Smoke: you're immune to any stat downs. Not bad I guess, especially on the Shell Smash set but... its other ability is so much better.
Shell Armor: you're immune to critical hits, which is honestly what kills most walls. Even a resisted attack that crits will deal mega damage.
Movesets
Bulky defender
- Rapid Spin
- Stealth Rock
- Yawn / Toxic / Earth Power / Will-O-Wisp
- Lava Plume / Flamethrower
Item Attached: Leftovers
Ability: Shell Armor
EVs and Nature:
EVs: 248 HP / 252 Def / 8 SDef
Bold Nature (+Def, -Atk)
Rapid Spin gets rid of Stealth Rock, Spikes, that sort of deal. Shame you have to switch into it. Stealth Rock is the best entry hazard in the game, so there's no reason not to run it. Yawn can force switches or inflict sleep, Toxic cripples bulky Waters that switch into you, and Earth Power combos really well with your Fire STAB. Will-O-Wisp is an option if you want a more guaranteed burn. Lava Plume has a 30% chance to burn, whereas Flamethrower is a tad stronger.
Shell Smash?
- Shell Smash
- Flamethrower
- Earth Power
- Hidden Power [Grass] / Explosion
Item Attached: White Herb
Ability: White Smoke / Shell Armor
EVs and Nature:
EVs: 4 Atk / 252 SAtk / 252 Spd
Timid Nature (+Spd, -Atk) / Naive Nature (+Spd, -SDef)
Shell Smash is practically the best boosting move in the game. +2 to Speed and your offences, -1 to your defences. Flamethrower hits hard, it's reliable, no stopping it. Earth Power combos well and is one of the few moves Torkoal gets outside of Fire attacks. Hidden Power [Grass] smashes some Waters down. Explosion because +2 Explosion will be hurting a LOT.
Torkoal gets to just over 300 Speed after Shell Smash. 304 actually, which really isn't too bad. With White Herb, you have a chance of doing a lot of damage. Stick to the lower tiers with this though, because otherwise... you'll be cooked quickly.
EVs & Natures
Torkoal
Torkoal's EVs and Natures change drastically depending on what you wish to do with it. With the Shell Smash set, focus on Special Attack and Speed to monopolise on the boosts and damage you can use it to your advantage. The Bulky sets need you to focus on the defenses.
Other Options
Body Slam, Clear Smog, Gyro Ball, Rest, Toxic, Will-o-Wisp
Body Slam can do decent damage and potentially paralyse
Clear Smog will revert all status changes on the field, very handy if someone has been trying to set stuff up
Gyro Ball monopolises upon Torkoal's poor speed and does real decent damage
Rest puts Torkoal to sleep
Toxic damages the opponent each turn with increasing damage as you go, with Torkoal's high defences, you can make it sit out and wait
Will-o-Wisp damages the opponent each turn and halves their Attack. Always a useful move
Double & Triple Battle Options
Torkoal really isn't much of a Double/Triple battle Pokémon, but can withstand many hits, but gets destroyed by the common Double and Triple moves of Surf and a couple of Earthquakes so it's probably not your best bet. If you do use it, it's a decent Rapid Spinner and can do some decent damage
Partners
A partner with Trick Room would be good for Torkoal due to its Speed, this will allow Torkoal to move first and do some decent damage while still being able to withstand hits. A Sunny Day user, or Ninetales with Drought, will increase the damage of Torkoal's moves. Next, Pokémon with the ability to take out Stealth Rock and the other weaknesses of Torkoal are also a good bet such as Grass-types who can take out Ground, Rock and Water Pokémon
Countering Torkoal
While Torkoal lacks Speed, it has massive defences which need to be broken down. Thankfully, its Special Defense is pretty poor so you can push on with that. Water-type moves such as Surf will just obliterate Torkoal, and Pokémon such as Slowking have the ability to withstand Torkoal's hits and do the damage necessary. Most Ground-types and Rock-types will also be able to take out Torkoal with moves such as Ancientpower, Earthquake or Stone Edge.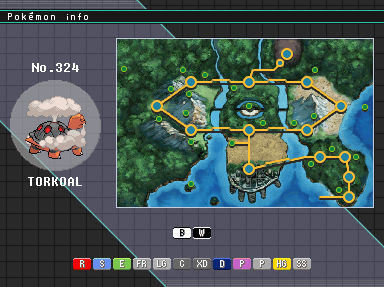 Locations in Games
Ruby/Sapphire/Emerald:
Fiery Path (Ruby & Sapphire)
Fiery Path, Magma Hideout (Emerald)
FireRed/LeafGreen:
Trade from Ruby/Sapphire/Emerald.
Colosseum/XD:

Trade from Ruby/Sapphire/Emerald
Diamond/Pearl/Platinum:
Route 227 & Stark Mountain .
HeartGold/SoulSilver:
Safari Zone.
Black/White:
Transfer from Diamond/Pearl/Platinum/HeartGold/SoulSilver
Rugged Mountain (Dream World)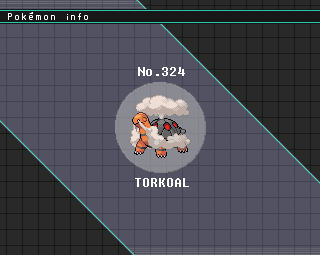 Animé Appearences
| | |
| --- | --- |
| Torkoal has made a fair few appearances, mostly under the control of Ash during his journey through Hoenn, Kanto Battle Frontier and Sinnoh League. | |