Location: Kiloude City
As Johto, Hoenn and Sinnoh had the Battle Tower, and Unova had the Battle Subway, Kalos has its own battle facility, the Battle Maison. This small mansion, located within Kiloude City,is home to the battle facility of the region. In here, you'll be able to battle through various trainers to try and get to the Battle Maison leader.
There are four different styles of battle here: Single, Double, Triple and Rotation, and each one has got its own leader. The rules are the standard flat rules of Pokémon battling, locking out specific legends and preventing two of the same Pokémon and item. However, there are a few differences.
Instead of going through rounds of seven trainers, you will just continue to battle until you want to take a break, or you lose. This allows for you to go at your own pace and you don't forfeit anything by taking a break. In addition to that, you will receive at least 1 BP for every battle you win, straight after the battle. Finally, you have the ability to change the battle music between four different tracks provided.
We'll bring details of the trainers as we get them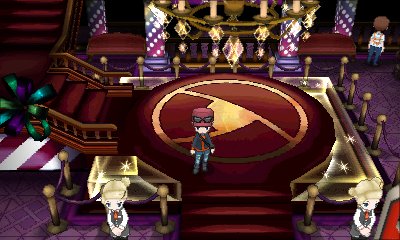 Like the previous Battle facilities, the Battle Maison includes the special Multi Battle mode. Here, you can participate in Double Battles against two trainers, selecting two of your Pokémon. When you begin, you first get asked if you wish to do this with a friend. This is done via local connections, starting with utilising the 3DS IR and allows for you to both challenge it at the same time. Your streak is reset if you do this.
However, if you don't wish to play with a friend locally, you can play with an AI player. These AI players include yourself, Shauna, Tierno and Trevor, as well as everyone on your Friend's List. Each person is represented by a "friend" of the player and will have two Pokémon. You are shown the Pokémon they have before you select them, so you can make sure to make the correct choice.