One of the most interesting features in Gold and Silver is the Time Capsule. After opening, it allowed players the opportunity to trade over their beloved fighters from Generation I games, or trade their new ones to these games with moves they previously couldn't have. There are two very obvious technical limitations to this, of course, which are detailed below.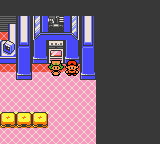 How to Open
The Time Capsule cannot be opened until the player visits Ecruteak City Pokemon Center for the first time and meets Bill. After he has fixed it, wait 24 hours and then you are free to use the machine to trade Pokemon of any level that meets the below requirements. Don't forget to pick up an Eevee from Bill in Goldenrod City after!
Restrictions
Just like in Star Trek, players can't visit the capsule if they're going to be messing with the timeline. Here are the restrictions:
- no Johto Pokemon or eggs can be transferred. - no new moves on old Pokemon can be traded over.
This means that you can't trade over your Lugia to awe Kanto with, nor any of the other Johto Pokemon. Not even pre-evolutions and evolutions of Kanto Pokemon. There are, of course, glitches that circumnavigate these restrictions, but we won't get into that here. The time steam must be preserved.
To be able to trade over Pokemon with new moves, you must first delete them. This is done either by writing over the offending move with a TM or level-up one, or taking the Pokemon to Blackthorn City's move deleter to have it erased manually. The latter method is the only way Pokemon who have learned Whirlpool will forget it.
It is perfectly find to send back a Pokemon with a move it couldn't learn before but was available in Generation I. An example of this is Blastoise with Ice Punch, or Machoke with Karate Chop. Be warned however, moves like Karate Chop that changed types in Generation II will not retain these changes in Generation I.
Items
When you trade Pokémon over from Pokémon Green, Red, Blue or Yellow, you may notice that the Pokémon has got an item attached to it. Some of these items are quite common, but others can only be obtained by trading the Pokémon. The item may also vary depending upon the game it is being sent from.