Caroline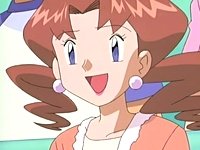 Caroline (Jp. Name: Mitsuko)

Hometown: Petalburg City, Hoenn
First Appearence In Episode: There's No Place Like Hoenn!

Biography

Caroline, the mother of May & Max and wife of Norman, resides in Petalburg City. A kind and caring parent, Caroline is always there for her children in their times of need such as during May's Grand Festival. Not owning any Pokémon that we know of, Caroline takes care of the Pokémon at the gym and holds an affinity for Beautifly, a Pokémon that reminds her of her time with Norman. Due to this, Caroline currently looks after May's Beautifly. Caroline is a kind and caring person who always puts others first, however she does get incredibly jealous and angry at the prospect of Norman possibly cheating on her.