Lucian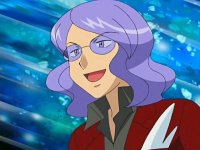 Lucian (Jp. Name: Goyo)

Hometown: ?, Sinnoh
First Appearence In Episode: An Elite Meet & Greet!

Biography

Lucian is the Psychic Elite Four member in Sinnoh. Meeting with Ash & Co, Lucian shows his skill easily. However, he is very hospitible and gladly gets to know the trainers he meets despite his celebrity status.

Achievements

Lucian has risen up the ranks and become a valued member of the Elite Four in Sinnoh

Pokémon on Team
Pokémon Picture
Details
Bronzong

Lucian used Bronzong in his training battles against Dawn to train her newly captured Buizel. It has a myriad of powerful Psychic attacks at its disposal which it used to topple Buizel easily

Obtained prior to Episode: Elite Four Lucian & Bronzong

Girafarig

Girafarig was seen briefly in a battle of Lucian's that was broadcast on the Television. In the battle, it managed to easily take down a Scizor.

Obtained prior to Episode: An Elite Meet & Greet!