Dento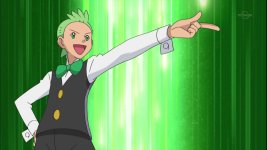 (Jp. Name: Dento デント)
Hometown: Sanyou City, Unova
First Appearence In Episode: Sanyou Gym! VS Panpour, Pansear & Pansage!
Biography
Dento is one of the Gym Leaders of Sanyou City Gym. In addition to the Gym Leader duties, he is also a Pokémon Sommeliar and is capable of seeing the compatibility and closeness between Pokémon and their trainers. After his defeat at the hands of Ash, he decided to join Ash & Iris on their journey throughout the region of Unova. He has two brothers, Poddo and Koon
Pokémon on Team
Pokémon Picture
Details
Pansage

Pansage is Dento's star Pokémon and is often seen outside of its Pokéball with Dento. It has powerful attacks such as Bullet Seed and SolarBeam which allowed it to hold its own in battle against Ash's Mijumaru

Obtained Prior to Episode: Sanyou Gym! VS Panpour, Pansear & Pansage!


Ishizumai

When Ash & Co. found Ishizumai, they saw it making its own shell. However, it soon got attacked by three Ishizumai and lost its shell. Fighting back to get its shell, it used many powerful attacks such as X-Scissor to defeat its foes. After it recovered its shell, it asked to join Dento's team.

Obtained Prior to Episode: Ishizumai! Take Back Your House!!